Cornerstone Design challenges Mines students to improve outdoor recreation opportunities for all
Winning the semester-long design challenge – and the $1,000 grand prize – was a solution to improve spatial awareness for hearing impaired cyclists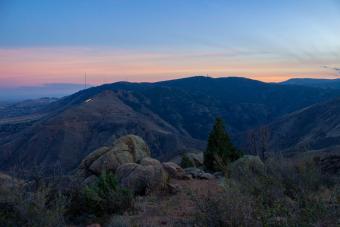 Spending time engaged in outdoor activities has well-documented benefits for physical and mental health for people of all abilities.
But what opportunities exist to improve outdoor recreation, sports and leisure equipment for people with and without disabilities – to promote access, prevent injury and enhance performance, enjoyment and inclusivity for all?
That was the central question that Mines students tackled during the Spring 2021 Cornerstone Design Competition, which held its final pitch competition May 6.
Winning the semester-long design challenge – and the $1,000 grand prize – was a solution to improve spatial awareness for hearing impaired cyclists.
The Seventh Sense's proposed NuVision Vest combines a Lidar sensor on the bicycle's seatpost with an adjustable vest worn by the rider. When the sensor detects an incoming vehicle, one of three haptic feedback motors embedded in the vest's lower back would vibrate based on the location of the vehicle (left side, center or right side). Forming the winning team was Cameron Shelley, Mark Ferguson, Spencer Shoemaker and Harrison Fugate.
Second place and $500 went to Kibble Krew, which proposed a better all-weather boot for service dogs. Their Traction Contraption boots feature improved traction and fit by replacing the boots' standard Velcro closures with ratcheting technology. Team members were Katie Collings, Charlie Dupras, McKenzie Jones, Prash Satish and Aidan Reaves.
Third place and $250 went to Board out of our Minds for SafeSkate, an adjustable snowboard strap designed to provide stability and support for beginning snowboarders by holding their free foot tightly to the board while on the ski lift and also serving as a carrying strap. Team members were Frances Williams, Joshua Carson and Joseph Lynch.
The SME Top Pick Award, a special prize given by the semester's subject matter experts, and $250 went to Not Playin' Around, for a self-operated playground swing designed for children with little to no leg function. Team members were Chris Barron, Nate Graves, Tim Puls, John Taylor and Andrew Winkelmann.
Required for all Mines undergraduates, Engineering, Design & Society's Cornerstone Design I is a semester-long hands-on, human-centered and open-ended design project course where student teams must investigate, define and solve their own problem within a given topic or problem space. The final competition pits the top project idea from each of approximately two dozen class sections against each other.