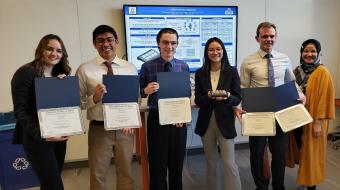 How can engineers help address the challenges brought on by the aging of the world's population due to declining fertility rates and increasing life expectancy? 
That's the question Mines students tackled during the Spring 2022 Cornerstone Design Competition, which held its final pitch event May 5. 
Winning the semester-long design challenge – and the $1,000 grand prize – was a solution to improve the computer user experience for older individuals.  
Kelly's Keys is a shortcut keyboard with buttons that can be programmed to perform predetermined tasks – like accessing a bank account website, checking email or joining a Zoom meeting – allowing users to perform everyday computer tasks quickly and efficiently without having to navigate individual menus and buttons. The keys themselves are ergonomic with a larger-than-standard cap size and require only light key presses, important considerations for individuals with arthritic fingers. Forming the winning team was Samantha Decker, Kelly Fairfield, Stanley Lalik, Michael Maggiore and Corey Schanker.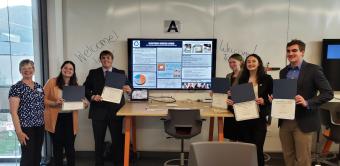 Second place and $500 went to Team 4 for its solution to improve the intravenous therapy experience for individuals in assisted living. Their all-in-one IV Butterfly-Catheter Hybrid would offer easier insertion, longer tubing and safer disposal, all aimed at helping those with weak, easily damaged veins, a condition experienced by many elderly patients. Team members were Margaret Wells, Isabella Fernandes de Oliveira, Flynn Schiele, Brody Welch and J Wilder.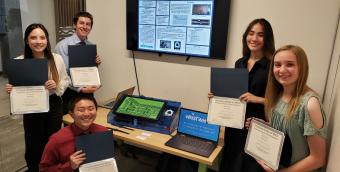 Third place and $250 went to WristWhere, a solution to improve hospital navigation and patient visits. With WristWhere, patients would be assigned RFID wristbands, which could then be tapped on easy-to-locate kiosks to get a personalized map and real-time directions to the room or office they should be in. Team members were Kya Irish, Jaeden Hillesheim, Kenneth Hora, Madeline Pastuszek and Catherine Carmosino.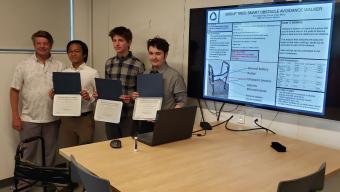 The Subject Matter Experts Pick and $250 went to Tres for its smart obstacle avoidance walker. The special prize is given by the semester's judges to the most needed and realistic solution to real-world problems. Team members were Ming Yang Ching, Lukas Rizvi, Connor Bendle and Benny Hernandez. 
Required for all Mines undergraduates, Engineering, Design & Society's Cornerstone Design I is a semester-long hands-on, human-centered and open-ended design project course where student teams must investigate, define and solve their own challenge within a given topic or problem space. The final competition pits the top project idea from each of approximately two dozen class sections against each other.