Computer science professor receives DARPA Young Faculty Award to improve robot teamwork
Hao Zhang's work will use lessons from social psychology to increase resilience, robustness of multi-robot systems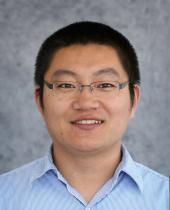 Hao Zhang, associate professor of computer science at Colorado School of Mines, has received a Young Faculty Award (YFA) from the U.S. Defense Advanced Research Projects Agency (DARPA) for research aimed at improving robots' ability to work together in teams.
In real-world applications like those seen today in manufacturing facilities, multi-robot systems often face complex changes in the environment and themselves.
But currently, when one of the robots inevitably breaks down, a human operator has to intervene, slowing down the entire manufacturing process.
"In human teams, different people have different capabilities and different individuals take care of different tasks. It's the same with a robot team," Zhang said.
"How the robot team can adapt as a team, adapt to failures as a team, just like a sports team or a company – that's the open question we're trying to address."
Zhang plans to use lessons from the social psychology of humans to tackle the challenge, with the goal of improving the resilience and robustness of manufacturing with multi-robot systems.
His project, "Autonomous Group Introspective Learning and coopEtition (AGILE) for Cross-Capability Multi-Robot Adaptation," will focus on two main areas – group introspection and what Zhang calls "coopetition," or cooperative competition.
Group introspection would allow robots in a team to be aware of all of their other team members so they have a shared situational awareness of the overall team's capabilities.
To accomplish that in robots, Zhang and his team will model robots in a team as a graph to enable team awareness and via conditional models that identify backup robots with similar capabilities to replace failed teammates.
So, Zhang said, say three robots work together in a manufacturing plant, one large robot and two smaller robots. Typically, the large robot carries the heaviest objects, but if it was temporarily out of commission, and the two smaller robots were aware, they could work together to carry the objects.
Zhang said he's most excited about the "coopetition" component of the project. In robots, they hope to realize coopetition by simultaneously modeling cooperation at the team level and competition at the individual level. Cooperation tackles tasks that are infeasible for individual robots to solve, while competition encourages each robot to perform better and adapt faster.
More adaptive robots could mean a more resilient and robust manufacturing environment for industries that have already been big adopters of multi-robot systems, including the aerospace industry, he said. Additional applications could include transport, reconnaissance, search and rescue, and wherever else groups of robots perform diverse complex tasks.
"DARPA is interested in the idea of robot adaptation as living creatures – today's robots are still far away from humans. I've spent 15 years on robotics, and in many aspects the robots we design today are still worse than my five-year-old," Zhang said.
"Humans are the most adaptive species on Earth. It's interesting to see the gap between robots and humans and try to mimic the adaptability of humans."