Colorado School of Mines to resume 100% in-person course delivery this fall
All Fall 2021 classes and labs will be designed for in-person delivery, with the term starting on time Aug. 23, 2021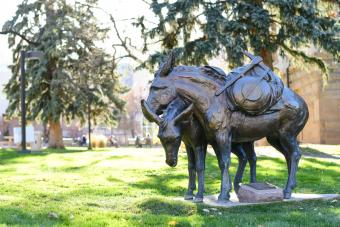 Colorado School of Mines officials announced today that the university plans to return to full in-person course delivery for the Fall 2021 semester.   
While Mines will continue to closely monitor and adapt to changing conditions, all classes and labs for Fall 2021 are currently being designed for in-person delivery. Classrooms, teaching labs and research spaces are also anticipated to return to pre-COVID capacities when the 2021-22 academic year begins, as scheduled, on Aug. 23. 
"Given the projections for vaccine availability, we are planning to return in Fall 2021 to full in-person course delivery, vibrant on-campus living/learning communities, and providing the distinctive on-campus experience and education that Mines is known for," said Mines President Paul C. Johnson and Provost Richard C. Holz in a message to campus Friday.  
While some universities and colleges went fully remote this academic year, more than 70 percent of Mines classes have had an in-person component in both the Fall 2020 and Spring 2021 semesters. Students wanting or needing to take courses remotely also had that option.  
Mines began its 2020-2021 academic year as scheduled on August 24, 2020. In preparation, the university introduced the Oredigger Promise, a set of principles designed to help the campus community safely and consistently navigate the academic year. At the same time, the university launched a COVID-19 testing program in partnership with COVIDCheck Colorado, as well as an in-house COVID-19 Response Initiator Team (CRIT). That team continues to lead contact tracing and reporting activities, and directs quarantine and isolation efforts on campus.   
As Mines awaits the availability of vaccines for students, Summer 2021 courses will be offered both in-person and remotely. Most lecture courses will be delivered either in an online or remote format, while labs and design classes will be held in-person in de-densified classrooms. Field session courses will be offered in person when possible, in line with public health guidance.  
"As we move to full in-person course delivery this fall, Mines will continue to follow public health guidelines to maintain a safe campus environment," Johnson and Holz wrote. 
In the event of unforeseen circumstances that do not allow for a full return to campus, Mines will pursue a plan for Fall 2021 similar to those in place for the 2020-21 academic year, with both in-person and remote options available and more than 70 percent of all classes having some in-person component in de-densified classrooms. 
"There is light at the end of the pandemic tunnel, and we are excited about being back together and having a much more normal fall semester," Johnson and Holz said.  
More information and resources – including Mines' COVID-19 dashboard (updated each weekday) – are available at www.mines.edu/coronavirus.