Colorado School of Mines, Confluence Companies celebrate grand opening of 1750 Jackson
Mines students began moving into the new residence hall Aug.1 in advance of the first day of fall classes on Aug. 24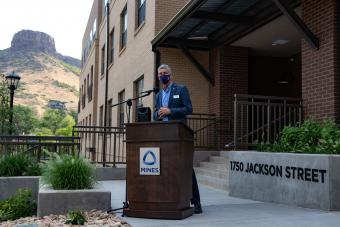 Colorado School of Mines and Confluence Companies held a ribbon cutting ceremony today to celebrate the grand opening of Mines' newest residence hall, 1750 Jackson.
Mines President Paul C. Johnson and Confluence CEO Tim Walsh joined a small group of project stakeholders and city officials for the socially distanced in-person ceremony. The ribbon cutting was also live-streamed for those who did not attend in person.
Built through a public-private partnership, the first in Mines' history, the four-story residence hall features 360 beds in apartment-style units with private bathrooms and kitchens, as well as a fitness area, outdoor courtyards, on-site parking and bike storage, lounges and study areas, and ground-floor commercial spaces.
Confluence broke ground on the Mines property in 2018 and will lease the building to Mines for 30 years before turning over sole ownership to the university. Students began moving into the new building, which caters to sophomores and upper-class students, on Aug. 1.
"We are excited to be here with our partner Confluence Companies to celebrate the grand opening of 1750 Jackson and welcome the building's first residents back to Mines for the 2020-21 academic year," said Mines President Paul C. Johnson. "This new residence hall, along with a second opening later this month, are strategic investments in Mines' future and they move us toward fulfilling our goal of providing a residential living-learning experience designed to support the education of all of our first- and second-year students."
"It has been a pleasure working with Colorado School of Mines to develop additional student housing. For the past 146 years Mines has been an integral part of Golden's history," Confluence CEO Tim Walsh said. "We are thrilled to provide students with a terrific housing option that will contribute to their success as Mines students while allowing them to be part of both the Golden and the Mines community."
Combined with Spruce Hall, set to open later this month, the two new residence halls add more than 700 beds to Mines' on-campus housing inventory. They are the first new residence halls to open on the Mines campus since 2014.
Spruce Hall, located between the Starzer Welcome Center and Weaver Towers off 19th Street, is home to 400 beds in traditional residence hall-style rooms with en-suite bathrooms, common social and study areas, exercise facility and a cafe set to open in September.
Students will move into Spruce and Mines' other more traditional residence halls over five days starting Aug. 16. Mines' 2020-21 academic year will kick off Aug. 24 with a mix of in-person and remote instruction. On-campus residential occupancy has been reduced for the 2020-21 academic year to allow rooms to be set aside for COVID-19 quarantine or isolation, as needed.