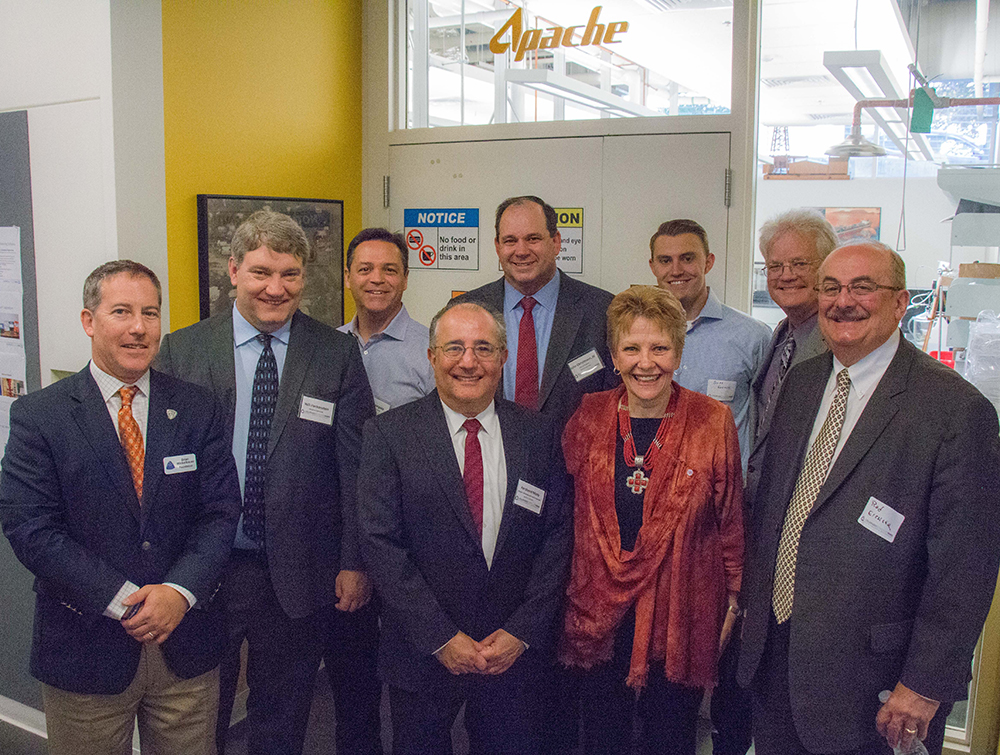 From left, Brian Winkelbauer, president of the Colorado School of Mines Foundation; Professor Will Fleckenstein; Associate Professor Jorge Sampaio; Fersheed Mody, manager, Global Research and Development, Apache Corporation; John Christmann IV, CEO and president, Apache Corporation; Dean Ramona Graves, student Brett Kovach, Associate Professor Bill Eustes and Rod Eichler, retired Apache executive.
GOLDEN, CO, Sept. 21, 2015 — Apache Corporation has presented a $2 million gift to Colorado School of Mines that will greatly enhance the Petroleum Engineering Department's drilling education and research. It will name the Apache Corporation Drilling Research Laboratory, fund a new graduate fellows program and support the Department of Geology and Geological Engineering and the Department of Geophysics.
Apache Corporation has been a valuable corporate partner of Mines for many years, sustaining students, faculty and research initiatives.
"Apache Corporation's significant commitment to Mines will bolster geoscience and drilling education programs for our students while also serving to build a robust pipeline of talent and technology for the oil and gas industry," said Mines President Paul C. Johnson. "We are grateful for Apache's generous support and excited about the many opportunities this leadership investment will provide for students."
John J. Christmann IV, Apache Corporation's CEO and president, earned a degree in petroleum engineering from Colorado School of Mines in 1988 and an MBA from Southern Methodist University in 1999.
 "This investment demonstrates our commitment to both a long-term partnership with this world-class institution and also the future of Apache and the industry to ensure that innovation and technological advancement remain at the forefront of our focus," Christmann said. "Our industry is in the midst of a challenging time given today's low commodity prices. While always at the forefront of our business, technology becomes a critical element for surviving and thriving in changing business environments and makes the cutting-edge work being done here all the more important."
The departments that will benefit from the gift are housed within the College of Earth Resource Sciences and Engineering. The college, home to some of Mines' oldest and most established areas of study, offers unparalleled expertise in new and emerging fields, combining robust technical, material and policy expertise to educate students to work collaboratively across disciplines to solve complex global challenges.
 "We are honored to elevate this partnership, which brings together one of the top independent oil and gas exploration companies with one of the premier geoscience engineering education and research institutions, to advance America's energy future," said Colorado School of Mines Foundation President Brian Winkelbauer.
To see photos from Apache's visit to Mines, see the Flickr album.

 
About Apache
Apache Corporation is an oil and gas exploration and production company with operations in the United States, Canada, Egypt and the United Kingdom. Apache posts announcements, operational updates, investor information and copies of all press releases on its website, www.apachecorp.com, and on its Media and Investor Center mobile application, which is available for free download from the Apple App Store and the Google Play Store.
About Colorado School of Mines
Colorado School of Mines is a highly selective, public research university, offering bachelor's, master's and doctoral degrees in engineering and applied sciences. Mines is internationally recognized for its education and research programs focusing on stewardship of the earth and its resources, developing advanced materials and applications, addressing the earth's energy challenges, and fostering environmentally sound and sustainable solutions. Learn more at mines.edu.
Contacts:
Colorado School of Mines
Rachelle Trujillo, Senior Director of Communications, Mines Foundation / 303-273-3526 / RTrujillo@mines.edu
Karen Gilbert, Director of Public Relations, Colorado School of Mines / 303-273-3541 / KGilbert@mines.edu
Apache Corporation
Media:  713-296-7189 Castlen Kennedy; 713-296-7276 Rory Sweeney
Investors: 281-302-2286 Gary Clark