Colorado School of Mines to launch bachelor's degree in ceramic engineering 
Ceramic and glass materials are critical to wide array of modern industries – semiconductors, electronics, defense, energy, healthcare, automotive, aerospace and more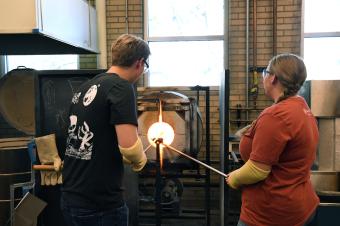 A new bachelor's degree launching at Colorado School of Mines next fall will prepare engineers for careers working with one of the world's most versatile materials – ceramic and glass. 
"It's more than just tiles and bricks," said Brian Gorman, professor of metallurgical and materials engineering. "CoorsTek likes to say that they have 100 ceramic components in every passenger vehicle and the vehicle wouldn't operate without any one of them. And that's just one example of the myriad applications for these crucial materials." 
Launching in Fall 2023, the Bachelor of Science in Ceramic Engineering at Mines will bring the total number of ABET-accredited ceramic engineering undergraduate programs in the U.S. to three – currently, only two other U.S. universities offer ceramics degrees at the undergraduate level: Alfred University, a private university in New York; and Missouri University of Science & Technology, a public university in Rolla, Missouri. At the high point in the 1960s, there were 14 ceramic engineering programs in the U.S.  
"The specialty in ceramics has been lost in the U.S. with a couple of exceptions, but it's definitely needed again," Gorman said. "There's a huge need for ceramic engineers and demand is significantly outpacing supply."  
The ceramic engineering program at Mines will build on the university's long-standing expertise in materials science and engineering, as well as Mines' cutting-edge ceramics research and facilities and strong relationships with industry, including CoorsTek, which is also headquartered in Golden and endows a graduate fellowship in ceramics at Mines.  
At the undergraduate level, students will receive hands-on training in ceramic processing, sintering, glass science, and thermal, mechanical and electrical properties. Four core laboratory classes starting in students' second year will ensure robust hands-on experience with the materials. Students will also have access to innovative undergraduate research opportunities and makerspaces, including Mines' on-campus glass hot shop.  
"This new degree program fits well within our mission to train students for the industrial workforce," said Ivar Reimanis, professor and head of the Metallurgical and Materials Engineering Department. "Our current hands-on, laboratory-based curriculum produces graduates who know how to make things, and ceramic engineering will dovetail nicely with our existing metallurgy-focused program and strong connections to materials manufacturing. Targeted industries include semiconductors and electronics, defense, renewable and traditional energy, healthcare, household goods, automotive and aerospace and many more." 
Developed in consultation and partnership with industry, the program will have a strong focus on the newer technical ceramics and glass. But the knowledge and experience gained by students in the program will prepare them for careers in both technical and traditional ceramics, Gorman said.
For more information about the Bachelor of Science in Ceramic Engineering, go to mines.edu/academics/ceramic-engineering.