Colorado School of Mines celebrates Fall 2022 Undergraduate Commencement
U.S. Rep. Ed Perlmutter was the distinguished speaker at Dec. 16 ceremony, 277 bachelor's degree conferred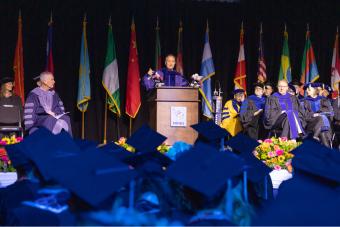 Colorado School of Mines celebrated its Fall 2022 Undergraduate Commencement on Dec. 16, conferring a total of 277 bachelor's degrees during the ceremony at Lockridge Arena. 
The ceremony's distinguished speaker was U.S. Rep. Ed Perlmutter. Perlmutter, who is retiring in January, has represented Golden and the rest of Colorado's 7th Congressional District in the U.S. House of Representatives since 2007.  
Watch the full ceremony and download the official Commencement program at commencement.mines.edu. See more photos on the Mines Flickr page. 
FALL 2022 OUTSTANDING GRADUATING SENIORS 
As part of the undergraduate ceremony, Mines honored its Fall 2022 Outstanding Graduating Seniors. Chosen by faculty and staff and each representing a different academic major, the 11 students were recognized for their high scholastic achievement and on-campus engagement.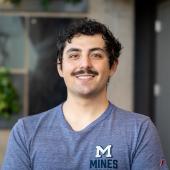 Bora Basyildiz, Computational & Applied Mathematics 
Basyildiz, of Edwards, Colorado, plans to stay at Mines to work toward a thesis-based master's degree in quantum engineering. As an NSF Quantum Engineering NRT Fellow, he will do his thesis in collaboration with the National Institute of Standards and Technology (NIST).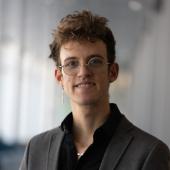 Daniel Richards-Dinger, Statistics 
Richards-Dinger, of Redlands, California, will return to Mines in the spring to finish his master's degree before seeking employment in spatial statistics in the Denver area.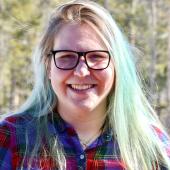 Sierra Schlussel, Chemical & Biological Engineering – Process Engineering Specialty 
Schlussel, of Evergreen, Colorado, will pursue a thesis-based master's degree at Mines, conducting research on formic acid decomposition on transition metals.  
Benjamin Costa, Chemical & Biological Engineering – Biological Engineering Specialty  
Costa, of Katy, Texas, has accepted a position with Chevron as a data engineer, where he hopes to use his combined skillset in data utilization and process understanding to drive improvements within manufacturing.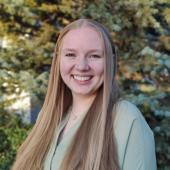 Savannah Dilley, Civil Engineering 
Dilley, of Montesano, Washington, plans to stay at Mines for another year to complete her master's degree in environmental and water engineering, while also interning with Stantec and the U.S. Army Corps of Engineers.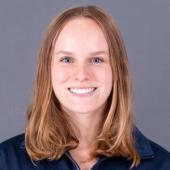 Erin Taggart, Environmental Engineering 
Taggart, of Carlsbad, California, will join Burns & McDonnell in Denver, where she will work in the Civil/Structural Department and focus on stormwater design and environmental processes.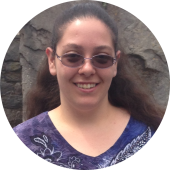 Nichole Starr, Computer Science 
Starr, of Evergreen, Colorado, has accepted a position at Lockheed Martin Rotary and Mission Systems in Colorado Springs.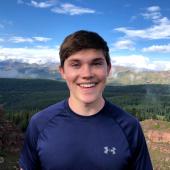 Luke Logan, Electrical Engineering 
Logan, of Lakewood, Colorado, will finish up his non-thesis master's degree in electrical engineering in May before joining CesiumAstro in Broomfield, Colorado, as an RF engineer. There, he will be primarily designing phased array antennas for satellite applications.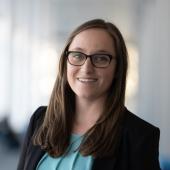 Allison Palmer, Engineering 
Palmer, of Falcon, Colorado, is seeking opportunities to work in the field of designing sustainable and biophilic buildings that will improve the users' well-being and their relationship with the built environment.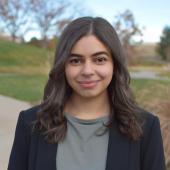 Kadeja Salem, Mechanical Engineering  
Salem, of Centennial, Colorado, is looking forward to pursuing a career using her background in mechanical engineering and computer science to design and implement automation solutions.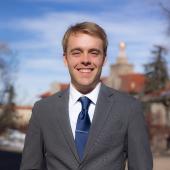 Elias Roll, Metallurgical & Materials Engineering 
Roll, of Stillwater, Minnesota, plans to move to Portland, Oregon, where he intends to work in materials analysis and characterization or aerospace for a few years before pursuing a graduate degree in materials engineering.  
ADDITIONAL UNDERGRADUATE AWARDS 
Humanitarian Engineering 
Distinction for Leadership in Humanitarian Engineering: Melanie Breckenridge and Allison Palmer 
Mechanical Engineering 
Emeritus Faculty Exemplary Undergraduate Award: Evelyn Cook 
John Steele Commemorative Service Award: Adam Schwartz 
Metallurgical and Materials Engineering 
Alan Kissock Award: Elias Roll and Heather Slomski 
Clark B. Carpenter Award: Christian Godfrey 
Mining Engineering 
H.G. Washburn Award: Maghee McMullen 
University-wide Awards 
The Dan Fox Outstanding Student Service Award is presented by the Division of Student Life to the students who, during their tenure at Mines, above their academic role, vigorously participated in activities for the greater benefit of their peers and community to promote excellence and well-being: Katherine Aubert 
The President's Senior Scholar Athlete Award is presented to one graduating female and one graduating male athlete, each with a cumulative grade point average of 3.0 or higher, who have lettered in a sport during their senior year and have has demonstrated leadership qualities of an exemplary student-athlete: Patricia Drew Stokes, Volleyball, and Jack Peterson, Football 
MILITARY COMMISSIONS 
The following students will be commissioned as second lieutenants in the United States Army: 
Christian Canon 

Andrew Dayhoff 

Wesley Linder 
The following students will be commissioned as second lieutenants in the United States Air Force: 
Avery Baltunis 

Robert Brendse