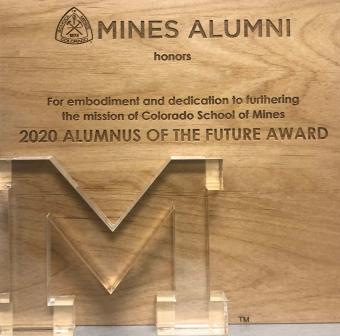 Each fall, the Colorado School of Mines alumni community is asked to nominate their peers for recognition of the outstanding contributions they are making to and through Mines. The Mines Alumni Board of Directors are happy to announce this year's awardees.
Melville F. Coolbaugh Award: Roshan Bhappu '50, MS '51, PhD '53 (awarded posthumously)
This award recognized an individual who has made an outstanding contribution towards improving the image and reputation of Mines.
Outstanding Alumnus Award: Barry Thomas '91
This award recognizes an alumnus/na who has contributed meritorious service on behalf of Mines.
Young Alumna of the Year Award: Jordan Hopper '14
This award is presented to a recent graduate whose accomplishments have reflected favorably on the school and are actively involved in their alumni community.
Academic Support Award: William Fleckenstein '86, ME '88, PhD '00
This award is given each year to a member of the Mines community who goes above and beyond to support the rigor of a Mines education.
Alumnus of the Future Award: Elijah Evers '20, MS '20
This award is given to a student for his or her effort in strengthening campus and who will continue supporting Mines after graduating.
M Club Leader of the Year: Alyse Keller '15 & Jared Clark '16
This award recognizes alumni who are M Club Leaders in their area and go the extra mile to support Mines and their fellow Orediggers.
To learn more about the 2020 award winners, click here.