GOLDEN, Colo., April 5, 2016 – The Colorado Geological Survey (CGS) at Colorado School of Mines announces the release of "Information Series 78 – Colorado Mineral and Energy Industry Activities 2014 – 2015," by James R. Guilinger and John W. Keller.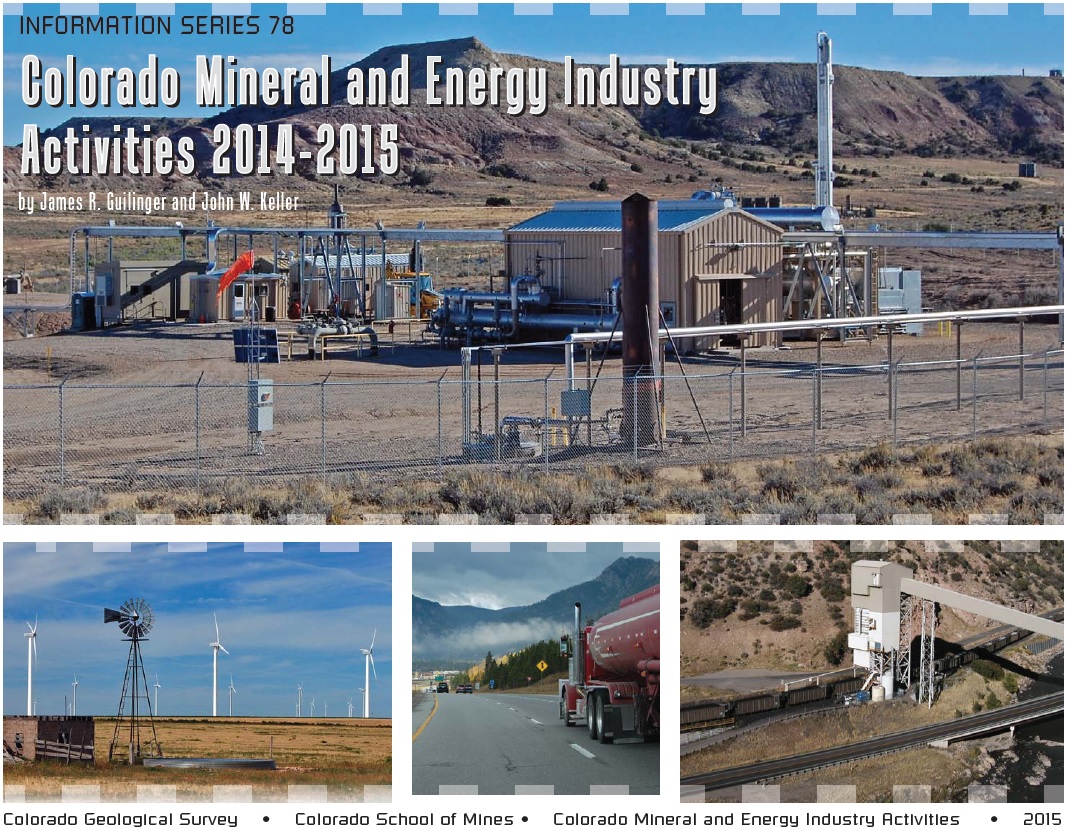 Due to higher prices and production in 2014 through 2015, especially for oil, several sectors of Colorado's mineral and energy resource industries enjoyed a year of growth. Between 2002 and 2014, the value of mineral production in Colorado quadrupled and the CGS estimates the total value of 2014 mineral and energy fuels production in Colorado to be $18.8 billion – a 21 percent increase over the 2013 value of $15.5 billion. Despite a drop in prices in the last half of 2014, the vast majority of the increase in value was from the oil and gas sector. In 2014, Colorado was the 11th largest coal producer in the U.S. while renewable energy resources, mostly wind, experienced rapid growth rates. The total nonfuel mineral production value (e.g. metals, industrial minerals, and construction materials) in Colorado was estimated at $2.32 billion for 2014 – a 10 percent increase over the 2013 estimated value of $2.11 billion.
This report presents an economic and production summary of Colorado's 2014 energy, mineral, industrial mineral, construction material, and industrial gas resources. Graphs and figures within the report present production and average resource prices for 2014 and are compared to past data in a clear and concise format. 
The resources discussed include conventional energy (e.g. oil and gas, coal, uranium), renewable energy (e.g. wind, solar, hydroelectric), mineral resources (e.g. molybdenum, gold, silver, construction aggregates), and industrial gases (e.g. carbon dioxide and helium). Maps and figures also present a comparison of Colorado's resource production to other states. 
The CGS is pleased to resume publication of this annual series after a hiatus since 2008. This free report can be downloaded directly from the Colorado Geological Survey bookstore front page http://store.coloradogeologicalsurvey.org or by searching for "IS-78". Print copies are available for $15.
For more information, please contact Mike O'Keeffe at the CGS at okeeffe@mines.edu.