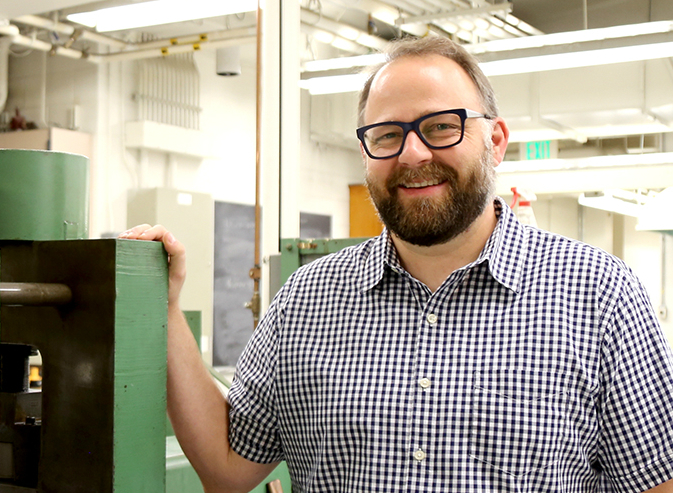 Kester Clarke, assistant professor of metallurgical and materials engineering at Colorado School of Mines, has received a National Science Foundation CAREER Award for work to improve the fundamental understanding of advanced high-strength steel, research that could ultimately help make automobiles safer and more fuel efficient. 
The project, "Controlling Austenite Stability and Response During Deformation of Advanced High Strength Steels," will receive $500,000 over five years.
Over the last 15-20 years, sheet steels used in automotive bodies have achieved strengths that are five times those of previous alloys, advances driven in large part by increasing fuel economy and safety standards, Clarke said. Typically, increasing strength results in a compromise in ductility – the steel's ability to stretch or bend without fracture – but metallurgists have been able to minimize the severity of the trade-off in these new advanced high-strength steels (AHSS) by designing the steels' microscopic structure to resist fracture.
"We've come a long way already – we've been able to make steels at really high strengths –  but we've done a lot of that pretty blind. If we understand all of this a little more, we'll be able to further create steel microstructures that have even more exceptional properties," Clarke said. "The hope would be to then be able to apply that to automotive uses. But once you understand this fundamental stability, it can be applied to industries outside of automotive that use steels and even industries that use other materials."
Clarke's team will focus on uncovering the relationships between the processing of these steels, the microscopic structure, and their properties and performance. Among the variables they will examine are the way the steel is deformed, how fast that deformation occurs, the pressure under which the steel is deformed and the temperature at which it is manufactured. 
"A lot has been done to develop these steels and most of it has been done by pulling a tensile test – taking a strip of steel and pulling it in one direction," Clarke said. "But as you can probably imagine, when you're making panels for cars or structures for cars, they are formed in all different shapes. You stretch them in all sorts of directions and sometimes you stretch them multiple directions at the same time. That changes the response of the steel, either in manufacturing, shaping it in the first place, or later on when it's in a crash, how it absorbs energy. This CAREER project will look at the stability of that austenite phase as a function of a bunch of different variables." 
Researchers will conduct some of the experiments on equipment at Mines, while other work will be done at partner facilities nationwide. Collaborators include Los Alamos National Laboratory, Sandia National Laboratory, industry partner Quantus Technologies and national user facility Cornell High Energy Synchrotron Source.
"If you're going to be in research, whether that's at a company or a national lab, or going on to be a faculty member somewhere, it's really important to create a network where you can go and do things at different facilities that have different capabilities. Every university can't have every new tool and new toy. It's just not financially viable way of doing things," Clarke said. "Part of educating graduate students in particular but also undergrads is to let them know what's out there and connect them to people and encourage collaboration across industry, national labs and academia, but also across disciplines."
As part of the project, Clarke and the Advanced Steel Processing and Products Research Center will conduct outreach with local middle and high schools to encourage more diversity in STEM. He also hopes to work with the Mines Material Advantage Chapter on similar efforts. 
A Mines alumnus, Clarke joined the faculty in 2016. He holds master's and doctoral degrees in metallurgical and materials engineering from Mines, a BS in materials science and engineering from Wayne State University and a BA in psychology from Indiana University. 
CONTACT
Emilie Rusch, Public Information Specialist, Communications and Marketing | 303-273-3361 | erusch@mines.edu
Mark Ramirez, Managing Editor, Communications and Marketing | 303-273-3088 | ramirez@mines.edu