Claire Knight: "At Mines we are pushed by peers and professors to create the best quality work possible, and I think that is the best preparation anyone can have for the real world!"
Santa Rosa, CA
MS Engineering & Technology Management
BS Mechanical Engineering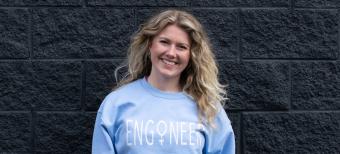 Why did you choose to come to Mines? What have you enjoyed most about being here?
I chose to come to Mines because I wanted an adventure. I had never been to the state of Colorado before, and I was eager to explore and find a community of driven and like-minded individuals. I am so happy to have met so many wonderful people and to have made friendships that will last a lifetime. Additionally, I am so thankful to my friends and professors who have pushed me to achieve things greater than I could have imagined.
Tell us about something you're working on right now that you find exciting, fulfilling or challenging.
Big news! My bestie and I have started an apparel line to empower women. Amanda Field and I created A&C Designs Company because we wanted clothing that was stylish, but also showcased that we are proud to be engineers! Together we are working to inspire women, not only in STEM but in any field, that your brain is beautiful and you should be proud to share it with the world.
Have you done an internship or co-op or been in a professional job while at Mines? Tell us who you worked for and what you were doing. What stands out?
Yes! I have had two internships at Lawrence Livermore National Laboratory in Livermore, CA. I worked alongside students from all over the country and the thing that stood out immediately was my Mines work ethic. At Mines we are pushed by peers and professors to create the best quality work possible, and I think that is the best preparation anyone can have for the real world!
What communities, groups or organizations—on- and off-campus—are important to you and why?
I have been fortunate to be part of many different communities at Mines, the most prominent of which being the Mines Dance Team and Alpha Phi sorority. I am currently the assistant coach of the Mines Dance Team, having been a prominent member of the team for the last four years. Having served as president and VP previously, I am so proud of the dancers, especially this year, for persevering through tough times and growing as a team to become an influential organization on campus. Additionally, I have held many leadership positions in Alpha Phi and have so much love and respect for sorority women. Through all of these organizations and the numerous leadership roles I have held, I have learned how to work through challenges with others and inspire members to get behind a common vision.
What are your plans for the future? What's your dream job?
I will be starting a full time position with Lawrence Livermore National Laboratory as a mechanical engineer after graduation in May. I am looking forward to continuing my work that I started during my internship, and I am excited to begin a new adventure in California. My dream job would be something combining dancing and engineering, but engineering for national security is a close second!
What would you tell someone interested in joining your academic program or Mines in general?
Do it! No questions about it. The people and programs at Mines have pushed me to grow into someone that I never thought was possible as an incoming freshman in August of 2016. You will be tried time and time again, but it is the best character-building experience anyone could ask for. The degrees at the end are just a bonus ;)
What's your favorite thing to do outside of class and coursework? How do you unwind, manage stress, find fulfillment, etc.?
So many things... Throughout this Q&A I have discussed so many organizations that I am proud to be part of, and I would firmly argue that being part of something greater than yourself is the key to relieving stress and finding fulfillment. I have greatly enjoyed my classes and professors at Mines, but I have equally enjoyed dancing at football and basketball games, planning philanthropy events for Alpha Phi and starting A&C Designs Company with Amanda!
Tell us something about you that most people would be surprised to learn?
I trained in classical ballet for 15 years before coming to Mines! (Although if you met me, you wouldn't be surprised to learn this because I never stop dancing.)