Christine Yee: "I chose Mines because of the positive reputation for shaping well-rounded engineers prepared for a long-term career."
Aurora, Colorado
Mechanical Engineering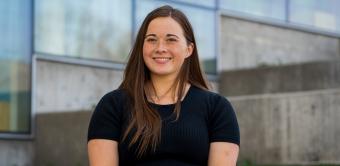 Why did you choose to come to Mines? What have you enjoyed most about being here?
I chose to come to Mines because of the positive reputation it has for shaping well-rounded engineers prepared for a long-term career. I have stayed because of the passionate and supportive professors and students in the community.
Have you done an internship or co-op or been in a professional job while at Mines? Tell us who you worked for and what you were doing. What stands out?
I had a summer internship in Michigan with Williams International, and they did such a great job coordinating and making accommodations for an out-of-state student. I met other amazing interns and learned so much from a variety of experienced engineers in the industry. Williams International designs and manufactures small turbine engines used in planes and a variety of applications. During my internship at Williams International, I was a mechanical engineer on the Expansion Systems team and spent the majority of my time using CAD to model parts for the engines based on drawings and outdated models. My internship experience gave me a great introduction to the engineering industry including the processes and organization of the business.
What communities, groups or organizations—on- and off-campus—are important to you and why?
Alpha Phi, the Panhellenic community and general fraternity and sorority life have been an integral part of my experience at Mines. They gave me opportunities for leadership—growing into the Panhellenic president—and have allowed me to help create friendships and opportunities for other students.
What are your plans for the future? What's your dream job?
I will be starting as a systems engineer for Northrop Grumman. I am excited to be a part of their rotational program and for the chance to travel and learn more from other professionals.
What would you tell someone interested in joining your academic program or Mines in general?
If someone is interested in coming to Mines I would tell them that this school is a rewarding and challenging experience.
What's your favorite thing to do outside of class and coursework? How do you unwind, manage stress, find fulfillment, etc.?
One of my favorite parts about Mines is its location. When I am not doing coursework, I love to go snowboarding or hiking in the mountains, go to Red Rocks for concerts or making good times in Denver. There is so much to do that is so close!