Chase Clayton: "I had endless opportunities to grow and develop new ideas..."
Fruita, Colorado
Mechanical Engineering Student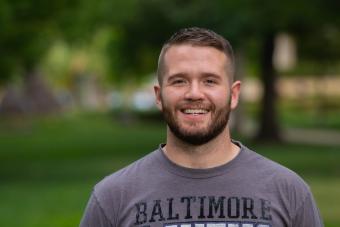 Why did you choose to come to Mines? What have you enjoyed most about being here?
Colorado School of Mines was always the school everyone talked about. It was a place that offered endless opportunities and growth. In high school I was told I wouldn't be able to attend if I didn't change the path I was on. I took this as a challenge and made it my mission to not let anyone tell me I couldn't attend. In a sense, it became a dream of mine to attend Colorado School of Mines. I applied and didn't get accepted because my ACT was not high enough and they believed I wouldn't be successful. I ended up going to a different school and eventually transferring. I chose this school because it was something that no one thought I could achieve but myself. The one thing I have enjoyed the most at Mines is the connections I have made. This school is a very diverse community and everyone has their own story.
Tell us about something you're working on right now that you find exciting, fulfilling or challenging.
I am currently working on my senior design project. We are tasked with creating a device to transport a mono-ski for a veteran who was wounded in the line of duty. He was paralyzed from the waist down and is looking for something to give him more independence while skiing. The project has had a lot of ups and downs, however, it has been an incredibly humbling and rewarding experience. The ultimate goal is to make a product that will allow him to have the freedom that he deserves while doing what he loves.
Have you done an internship or co-op or been in a professional job while at Mines? Tell us who you worked for and what you were doing. What stands out?
This past summer, I had an internship with Lockheed Martin. During this internship, I had endless opportunities to grow and develop new ideas that were out of the realm of what I thought to be possible. In this, I was able to be involved in things like manufacturing, systems engineering, business development and design, and so much more. I was exposed to several aspects of the company that I would have not otherwise been able to learn in a classroom setting. I had the opportunity to develop and present the project I was working on and receive constructive feedback to further improve my professional skills. Colorado School of Mines laid the foundation of skills to allow me to perform well in such a demanding position.
What are your plans for the future? What's your dream job?
After graduating in December 2019, I will be working full time for Lockheed Martin as a systems engineer. I hope to continue learning about the company and build my way up into an executive position. I also plan on pursuing a Master's Degree in the near future. As of right now, I feel very fortunate to have a job lined up with Lockheed Martin and don't feel like I could ask for much more!
What would you tell someone interested in joining your academic program or Mines in general?
Don't ever give up and follow your dreams! Work hard because you'll get out what you put into it.
What's your favorite thing to do outside of class and coursework? How do you unwind, manage stress, find fulfillment, etc.?
I find fulfillment while spending time with family and friends. I also take time for myself on the weekends to enjoy life!
Tell us something about you that most people would be surprised to learn?
The first time I took my ACT, I got a 17.
In December, I will be graduating from Colorado School of Mines with a Bachelor's in Mechanical Engineering. Don't let a number define you!