Charles O'Brien: "No matter your interests, you can find a home here."
Lakewood, Colorado
Mechanical Engineering Student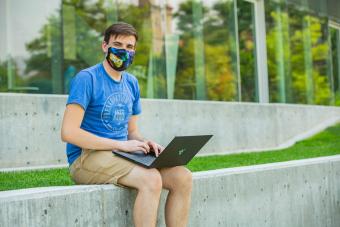 Why did you choose to come to Mines? What have you enjoyed most about being here?
I came to Mines to receive the best engineering education I could. Mines also runs in my family so that helped as well! The thing I've enjoyed most is the support and encouragement that the community has given me to pursue my dreams.
Tell us about something you're working on right now that you find exciting, fulfilling or challenging.
I'm currently working at Lockheed Martin on the new Human Lunar Lander that will be bringing humans to the Moon in 2024!
Have you done an internship or co-op or been in a professional job while at Mines? Tell us who you worked for and what you were doing. What stands out
I've worked at Lockheed Martin Space for the last two years. I started doing ground systems support for commercial satellites Arabsat and Hellasat. I then moved on to working mechanical design and integration on GPS as well as Lucy! A deep space satellite heading to the Trojan asteroids of jupiter. I now work on the mechanisms and Pyro team for the new Human Lunar Lander going to the Moon in 2024!
What communities, groups or organizations—on and off campus—are important to you and why?
The Center for Space Resources on campus is extremely important to me. They have taken me under their wing to do research as well as prepare me and push me for all my dreams in the aerospace field.
The band program has also been an incredible experience. Having a tight-knit group of friends who are all passionate about engineering and music provides a great environment for when things get tough!
What are your plans for the future? What's your dream job?
I plan to work at Lockheed Martin after graduating with the ultimate end goal of becoming an astronaut! My dream job is to design and work on a spacecraft that I eventually take to another celestial body!
What would you tell someone interested in joining your academic program or Mines in general?
Mines is incredible. No matter your interests you can find a home here. The community is so supportive and passionate that whatever your dreams are, Mines can take you there.
What's your favorite thing to do outside of class and coursework? How do you unwind, manage stress, find fulfillment, etc.?
I love to do Astrophotography. When I'm not working or at school, I'll be editing my latest photo or under the stars photographing distant galaxies and nebulas!
Tell us something about you that most people would be surprised to learn?
I think people would be surprised to learn that I'm currently developing a stand-up comedy act, hoping to center it on engineering and things we experience everyday.