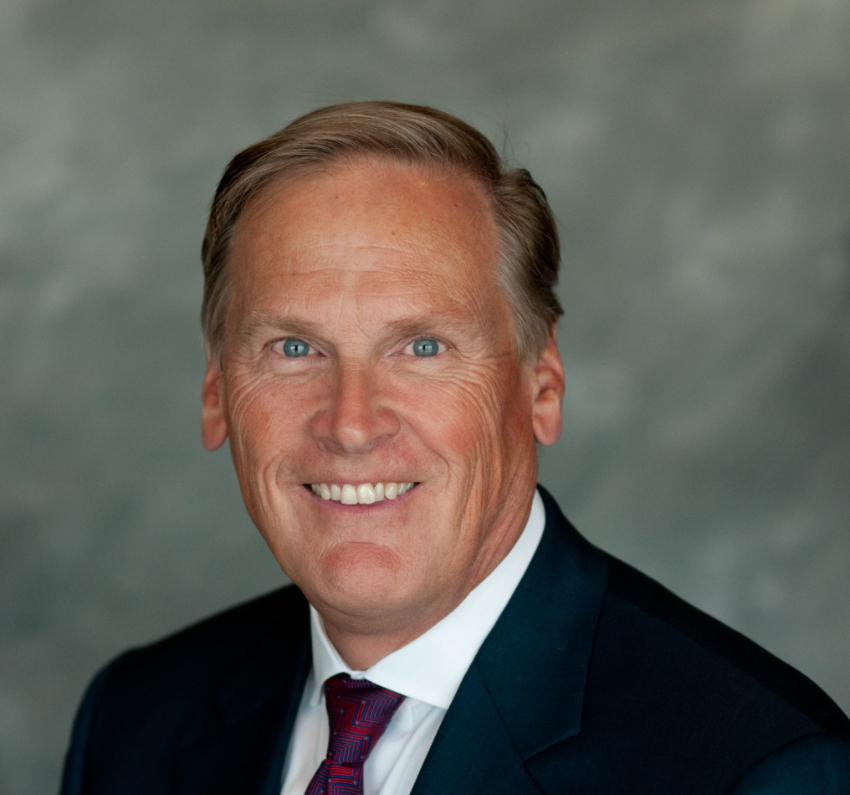 Bruce Grewcock, chairman and CEO of Peter Kiewit Sons' Inc. and a graduate of Colorado School of Mines, will give the keynote address at his alma mater's Spring 2019 Undergraduate Commencement ceremony on Friday, May 10.
A Fortune 500 company and the fifth-largest general contractor in the United States, Kiewit provides construction and engineering services to a variety of markets including building, mining, oil, gas and chemical, power, transportation, industrial and water. Grewcock has led the Omaha-based employee-owned company since 2005.
"Bruce is one of the foremost leaders in industry. He has had an amazing career and from his leadership position at Kiewit is shaping our nation's infrastructure," said Mines President Paul C. Johnson. "He has always acknowledged the impact that Mines has had on his life and how a strong work ethic, practical skills, technical depth, humility and analytical thinking are a great foundation for professional and personal success. Bruce has for many years been a valued advisor to Mines - he challenges us to aspire to greatness and also supports the efforts needed to achieve that goal. We are very fortunate to count him as one of our alumni and one of Mines' most dedicated and passionate supporters."
Grewcock graduated from Mines in 1976 with a bachelor's degree in mining engineering. He started his career with Kiewit in 1982 as a chief engineer at Black Butte Mine in Wyoming, and was subsequently promoted to vice president and operations manager. In 1992, Grewcock became president of Kiewit Mining Group, where his responsibilities expanded to include Kiewit's construction materials and quarries operations. In 1994, he was given the additional responsibility of division manager for construction operations. That same year he was elected to and still maintains a position on the Kiewit board of directors. 
In 2000, Grewcock became president and chief operating officer of Kiewit. He assumed the role of chief executive officer in 2005, becoming the seventh executive to lead the company, and in 2013, he became chairman of the board of directors. 
Since Grewcock took over as CEO, Kiewit has earned record levels of revenue, increasing from $4.1 billion in 2005 to $8.6 billion in 2016. Kiewit has also been named to Fortune Magazine's 100 Best Companies to Work For list in the United States and has been recognized as one of the best workplaces in Canada.
A longtime supporter of his alma mater, Grewcock is one of Mines' top individual donors and serves on the executive committee of the Colorado School of Mines Foundation Board of Governors. He was honored with the Mines Distinguished Achievement Medal in 1999. 
In 2012, Grewcock made a large financial investment - a gift of several million dollars - to establish the university's center for underground construction and tunneling (UC&T) and support the program's faculty. In 2018, he invested in the growth of the UC&T program again and provided seed funding for an industry fellowship matching program and graduate student recruiting position. 
In addition to his degree from Mines, Grewcock also attended the Stanford Graduate School of Business Executives program in 1989. He is a member of Business Roundtable, an association of CEOs of leading U.S. companies. A leader in the community, Grewcock serves as a director of Nebraska Medicine and Creighton University. He received the Golden Beaver award in management in 2016 and the Moles Award in 2013 for his distinguished career in the construction industry. 
"It's such an exciting time to be stepping into this fast-changing industry. I've seen some dramatic changes during my career, but I'm almost jealous of the incredible journey that lies before the graduating class of 2019. I know firsthand how well Colorado School of Mines prepares its students for that journey and, as a Mines alum, I'm incredibly proud of the education and research it's doing to help society navigate toward a better standard of living," Grewcock said. 
The Colorado School of Mines Spring 2019 Undergraduate Commencement will take place at 9 a.m. Friday, May 10, at Marv Kay Stadium at the Harold M. and Patricia M. Korell Athletics Center. A live webcast will also be available on the Mines YouTube channel. For more information, go to commencement.mines.edu.
CONTACT
Emilie Rusch, Public Information Specialist, Communications and Marketing | 303-273-3361 | erusch@mines.edu
Mark Ramirez, Managing Editor, Communications and Marketing | 303-273-3088 | ramirez@mines.edu