GOLDEN, Colo., Oct. 21, 2013 – Civil and Environmental Engineering Professor Mike Mooney has been appointed as the Grewcock University Endowed Chair in Underground Construction & Tunneling at Colorado School of Mines.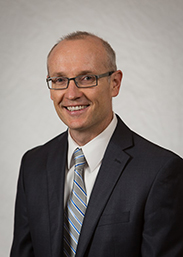 Mooney will lead the university-wide Center of Excellence in Underground Construction & Tunneling (UC&T). The UC&T center is an interdisciplinary effort across civil, geological and mining engineering, and includes mechanical and electrical engineering, geophysics and computer science. The mission of the center is to educate engineers to join the UC&T industry and to advance knowledge that benefits industry through research.
The Grewcock University Endowed Chair in Underground Construction & Tunneling was established through a generous gift from 1976 Mines alumnus Bruce E. Grewcock, chairman and CEO of Kiewit Corporation.
"Colorado School of Mines equipped me with the technical expertise and training that our industry demands," said Grewcock. "The UC&T Center at Mines will serve as a valuable training and research resource."
Grewcock sees a clear need for strong university focus nationally in UC&T, both to prepare the engineering workforce of the future and to solve challenging problems through interdisciplinary research.
"Underground infrastructure is being built in increasingly complex geologic environments, so the demand for highly skilled professionals is growing," said Grewcock. "Through partnerships with educational institutions like Mines, we can meet the demands of our growing industry."
A registered professional engineer, Mooney brings 18 years of academic and consulting experience in heavy civil engineering and construction to this position. He received a bachelor's degree in civil engineering from Washington University in St. Louis, a master's degree in civil-structural engineering from the University of California-Irvine and a doctorate in civil-geotechnical engineering from Northwestern University.
His expertise lies in soft ground tunnel design and construction, ground improvement, instrumentation/monitoring of construction systems, nondestructive imaging techniques and intelligent geoconstruction processes. He has been the principal investigator for more than 30 geoconstruction-related research projects and has authored more than 100 technical publications. At Mines, Mooney teaches courses in tunnel design and construction, support of excavations/earth retaining structures, instrumentation and monitoring, nondestructive evaluation and intelligent geosystems. He advises numerous graduate and undergraduate students pursuing industry-applied research projects in UC&T.
"Mines is a natural fit for a Center of Excellence in UC&T given the collective strength of the civil, geological and mining engineering departments, the industry-focused nature of Mines and a university mission that is strongly tied to earth engineering," said Mooney.
He and his colleagues are eager to help grow the output of talented engineers and provide value to the industry through research.
"Some of the most sophisticated engineering in extremely challenging environments is being carried out underground around the world. The more UC&T courses our students take, seminars they attend, and projects they participate in, the more they gravitate toward this challenging field," Mooney said. "Our mission is to advance and help grow the UC&T industry. Industry involvement and engagement is critically important to our efforts."
Learn more about UC&T at Mines at uct.mines.edu.
Contact:
Andi Niess, Center for Underground Construction & Tunneling, Colorado School of Mines / 303-384-2587 / aniess@mines.edu
Karen Gilbert, Director of Public Relations, Colorado School of Mines / 303-273-3541 / kgilbert@mines.edu
Kathleen Morton, Communications Coordinator, Colorado School of Mines / 303-273-3088 / kmorton@mines.edu