Bradley Jesteadt: "I was excited to be around so many people with the same interests and hobbies as me."
Arvada, Colorado
Combined Mechanical Engineering Bachelor's/Master's Student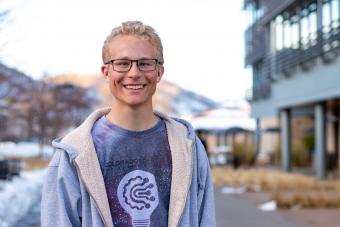 Why did you choose to come to Mines? What have you enjoyed most about being here?
Mines is one of the most reputable engineering schools in the nation, which is what attracted my attention in the first place. I was excited to be around so many people with the same nerdy interests and hobbies as me, and I loved the campus, which was (bonus points) close to home. It was the obvious choice!
Tell us about something you're working on right now that you find exciting, fulfilling or challenging?
I'm working on so many things right now! In the photo below, I'm wearing the exoskeleton suit I'm helping build in the robotics club. We want to push boundaries of wearable robotics by creating a robot that can run with its user! It's hard because we want both strength and speed without weight, which is traditionally very difficult.
I'm also participating in Professor Brice and Professor Blacklock's Manufacturing Innovation Challenge, in which I'm working with a competitive team to build an extraterrestrial rover wheel. This wheel has to be lightweight and strong enough to support a rover with two passengers, as well as compact for storage and transportation. As an added challenge, the wheel performs excavation and analysis of rock and dirt samples while driving, which is key to the future of space resource utilization!
Finally, I'm leading a portion of Mines RockSat-X team. The RockSat-X team is working to create a set of experiments to research ways to deorbit small space debris. These experiments will be built into a sub-orbital rocket and launched in August--in fact, this project will be Mines first student project to visit space! The research we'll be doing will contribute to the future of space travel, as even small bits of debris (traveling thousands of miles an hour) can be catastrophically damaging to future missions.
Have you done an internship or co-op or been in a professional job while at Mines? Tell us who you worked for and what you were doing. What stands out?
Since coming to Mines, I've worked at one internship and as a research assistant for one professor.
I interned at Tenere Inc., a plastic injection molding company. I helped with process standardization and machine maintenance there for a summer.
Subsequently, I worked with Professor Jackson on his research in the field of Concentrated Solar Power. The research we're doing entails transport and storage of solar heat in ceramic particles. If high enough heat transfer efficiencies are achieved in these experiments, it could pave the way to the next generation of renewable energy and bypass some of the inefficiencies that solar panels face. A lot of my time over the summer was spent helping design the heat exchangers and frames for the experiments.
What communities, groups or organizations—on- and off-campus—are important to you and why?
I'm vice president of the Maker Society at Mines. This is a hugely important organization to me. Our goals are to provide a space for students to come and get help with their hands-on projects and prototypes. We provide advice, networking, fun events, resources and access to various equipment including 3D printers and a laser cutter. The service we provide helps students develop confidence and in-depth hands-on experience planning and building prototypes. The organization has experienced incredible growth over the last couple of years, allowing us to provide a wider array of resources, materials and workshops to students on campus!
What are your plans for the future? What's your dream job?
Right now, I'm excited to see what opportunities arise as the next space age unfolds, as the private sector expands their presence in space and we make pushes for Mars and beyond. I'm excited to be involved in robotics and aerospace design, and space is an amazing field that contains both of those interests. Any application in those or similar fields where I get to develop new, cutting-edge technologies is where I want to be!
What would you tell someone interested in joining your academic program or Mines in general?
It's absolutely worth it! It's a ton of work, but you get so much experience and make so many connections. The community is full of peers who all love engineering and want to see each other succeed. The hands-on experience and projects you get to work with are like none other!
What's your favorite thing to do outside of class and coursework? How do you unwind, manage stress, find fulfillment, etc.?
I love to ski! I've hit the slopes several times this semester already and can't wait for more challenging terrain to open up. When I'm not skiing, I love drawing and playing guitar (both acoustic and electric).
Tell us something about you that most people would be surprised to learn?
I average about five hours of sleep a night! Most people think I'm crazy. I've just got too much life to live to waste it lying in bed!