Billy Beasley: "Studying and working at the Mines Ropeway Center allows me to chase my dream in a way that no other engineering school can offer."
Arvada, CO
Mechanical Engineering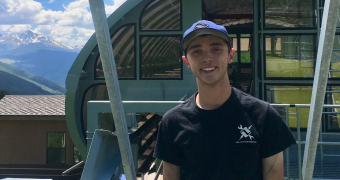 Why did you choose to come to Mines? What have you enjoyed most about being here?
I came to Mines because it is the only engineering school in the country where you can study ski lifts! Mines is home to the Information Center for Ropeway Studies (ropeways are the technical term for ski lifts), which is a collection of ropeway-related resources (books, articles, photos, etc.) located at the Arthur Lakes Library. I have wanted to design ski lifts for a long time, but it is a very small industry that is hard to get into. Studying and working at the Mines Ropeway Center allows me to chase my dream in a way that no other engineering school can offer.
Tell us about something you're working on right now that you find exciting, fulfilling or challenging?
I am currently producing a webinar series for the Ropeway Center. The goal is to cover a variety of ropeway-related topics to explore some of the resources at the center and generate interest in ropeways from the general public. It has been really fun to produce. My favorite episode to make was one about ropeway history, I got to compile a bunch of really cool research together and put together a unique video. It's one of few public items that I am aware of that covers all of ropeway history, from their ancient origins in Asia to today's modern trams and gondolas.
Have you done an internship or co-op or been in a professional job while at Mines? Tell us who you worked for and what you were doing. What stands out?
I have worked several jobs in the ski lift industry while at Mines, in addition to being a student assistant at the Ropeway Center. I spent my first two summers as a lift maintenance assistant at Vail Mountain. I helped the mechanics and electricians with various preventative maintenance tasks that are performed over the summer. I got to climb on towers for linework and get my hands dirty with a lot of really cool lifts. I have also worked for Pyxis AI, a company that is making AI software to assist lift attendants. Their technology uses computer vision to recognize potentially dangerous situations when loading or unloading lifts and alert the attendant to either slow or stop the lift as necessary. Finally, I spent my days off this winter as a lift operator at Beaver Creek.
What communities, groups or organizations—on- and off-campus—are important to you and why?
On campus, the Ropeway Center is very important to me because I have worked there since I started at Mines. I am also a part of Blue Key Honor Society, which has been really awesome to stay plugged into campus and have a lot of opportunities for service. I am also a member of the Navigators bible study group.
What are your plans for the future? What's your dream job?
My dream job is to work as an engineer for a lift manufacturer. Right now, I am going to work on a summer lift construction project in Utah for Doppelmayr. The goal is to get some experience in a new area and get my foot in the door at the company.
What would you tell someone interested in joining your academic program or Mines in general?
If you are interested in ski lifts, be persistent and get your hands dirty! The best way to gain experience is to be around lifts and ropeways in any way you can and learn from anybody you meet. It is a very small industry but everyone I've found has been super helpful whenever I reach out.
What's your favorite thing to do outside of class and coursework? How do you unwind, manage stress, find fulfillment, etc.?
My favorite thing to do outside of Mines is go skiing! Any day on skis is a good day, but my favorite mountain is Vail. I also really enjoy hitting balls on the range or playing a round of golf with my friends as a way to take a break from the stress of school.
Tell us something about you that most people would be surprised to learn.
Most people are surprised to learn that I am so passionate about ski lifts. But other than that, I am a huge sports fan and I was the color commentator for some of my high school sports teams.