Bicycle safety technology takes first place in Spring 2021 Capstone Design Showcase
Student-designed projects tackle problems using engineering and technology solutions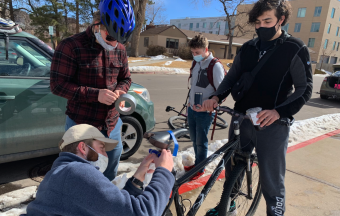 A device designed to alert cyclists to dangers on the road is the winner of the Spring 2021 Capstone Design Showcase.
The gestr Hazard Notification System was designed to tackle the rising number of bicycle-related deaths by detecting hazards in enough time for a cyclist to avoid them. Using computer vision, artificial intelligence and radar, the device not only allows the cyclist to know danger is ahead, but where the danger is coming from.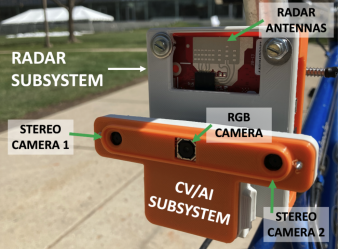 The device was created for client Tony Dobaj and Augmented Sense Technologies. The winning team was made up of Jonathon McNabb, Nayef Haidar, Daniel Parr, Maxwell Dumler, Lucas King and Darrian Schade.
"This project resonated greatly with the team. Many of us are avid cyclists and we're very passionate about the product," McNabb said. "We had the ability to make a true difference and save lives. We're very proud and hopefully we will make an impact on bicycle safety."
Placing second was Ampeer, a device that measures transmission line loading. The client for this project was SR3 Engineering. Team members were Jaden Ranzenberger, Lydia Manone, Cyrus Boushehri and Jacob Hofer.
Third place went to Human Centered Design Studio's Adaptive Climbing Rig, a device that assists paraplegics with rock climbing. The client for this project was Adaptive Sports Center, a Colorado-based organization for adaptive sports. Team members were Garron Tubbs, Lindsey Jin, Michelle Rugh, Rebecca Michalczyk, Ryan Kreigler, Shri Nandoor, Claire Edington and Mack Minnehan.
Capstone projects were also recognized for their innovation, societal impact, proof of concept and websites:
Best of Award for Innovation: gestr Hazard Notification System
Best of Award for Societal Impact: Entusi Model Farm Team 2, for Global Livingston Institute.
Team members: Serena Daluz, Megan Dickson, Joseph Golter, Caroline Jeffords, Carlos Ramos and Viviana Verde
Best of Award for Human Systems: Adaptive Eating Utensil, for Tamra and Birkley Logan
Team members: Ryan Evans, Michael Rickert, Gabby Ferro and Tanya Escobedo
Best of Award for Proof-of-Concept: Magnetically Steered Endoluminal Device, for Dr. Andrew Petruska
Team members: Chaney Brugman, Grant Rawls, George Merchant, Harry Dodwell, Henry Jenkins, Lance Fausset and Bill Liebelt
Best of Website Design & Engagement: Team Moose Safari – Mine Waste Stabilization, for Maya MacHamer, Boulder Watershed Collective
Team members: Patrick Allan, Kevin Fitch, Jocelyn Johnson, Samuel Martin, John Walkup, Madysen Woltemath and Brett Yoder
The Spring 2021 Broader Impact Essay winners were:
First place: Kai Sakimoto for "The Negative Impact of Single Stream Recycling"
Second place: Dan Parr for "The Sobering Concerns of Voice-Enabled Technology"
Third place: Anthony Kantzabedian for "Flushable Wipes Need to Be Banned"