Better balance, better life: Mines PhD grad transitions thesis topic into health tech startup
Ava Segal is turning her research on improving balance for older adults into a business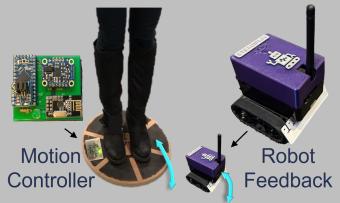 Ava Segal PhD '22 knew she wanted to focus her dissertation on a topic that combined engineering and technology to help people improve their health. What she didn't know when she began her research was that her thesis was going to lead to a patent application and her launching a health tech start-up, Steadi Systems.
Segal's interactive balance-training system, called Steadiplay, uses body motion on an instrumented wobble board for real-time control of a wireless robot, providing users with feedback and balance rankings, similar to fitness apps like Strava. According to the National Institute on Aging at the National Institutes of Health, one in four people age 65 years or older fall each year, and that risk only increases as people age.
"Working directly with military veterans in Seattle inspired my interest in mobility and balance and developing technology that improves people's daily lives," she said. "There's a lack of awareness and therefore emphasis placed on preventative balance health before a fall occurs. People aren't aware they're losing their ability to balance as early as age 50, and that there are ways to proactively address the problem. I want to help people understand the importance of balance fitness and provide an engaging training mechanism that motivates them to keep and restore their balance."
Before starting her PhD in mechanical engineering at Mines, Segal worked as a research engineer studying individuals with lower limb amputations and how technology could help that population improve their balance. Wanting to expand her scope once at Mines, she explored how she could help aging adults, with mentorship from her PhD advisors, Associate Professor Anne Silverman in biomechanics and Associate Professor Andrew Petruska in robotics.
From there, Segal developed a system where a user stands on a wobble board and controls a robotic car's movement in a real-world exercise game.
"The benefit of using a physical object like a robot instead of a screen-based video game is to promote spatial awareness without screentime, which is a relief in our digitally saturated lives," Segal said. "Average daily screen use in Americans is four hours, with just two to three hours a day causing detrimental health effects. We need fun alternatives that pulls us out from behind screens."
Tested on both younger adults (under 40) and her target population (over 50), she found that providing robotic visual cues improved the over-50-year-old participants' balance control at a level comparable to younger adults.
Wobble boards are commonly used in physical therapy to treat balance decline and ankle injuries. Segal focused on gamifying this established balance intervention, creating something that people could use at home and on their own time – reducing the need to make appointments at a clinic and spend time traveling to keep up with physical therapy. Additionally, her system provides users with immediate feedback and balance scores for healthcare providers to remotely track training progress, and a way for users to connect with others.
"The overarching mission of Steadi Systems is to provide engaging, fun and effective balance solutions and better balance awareness to empower all adults to age with confidence and independence," Segal said. "And, additionally, another big problem as people age is the feeling of isolation. I hope to develop a community that connects people through a fun and competitive activity, while training their balance without even realizing it."
From PhD to business plan
The road from thesis to product development started after Segal defended her dissertation, "Dynamic coordination training with mobile robotic feedback to improve neuromuscular response and engagement in joint movement and balance therapy," in August 2022.
She spent the month of October brainstorming next steps, which led her to the National Science Foundation's Innovation Corps, a workshop designed to help researchers who are trying to commercialize their research.
"They guided me on how to talk to potential customers, how to present and how to conduct interviews to get unbiased feedback," Segal said.
She then reached out to the Beck Venture Center, part of the growing entrepreneurship and innovation ecosystem at Mines. There, she participated in the Venture Center Startup Forum and received guidance on how to develop a business model, connected with mentors in the healthcare space and got feedback on her plans. This February, she had the chance to pitch her company more formally through Golden Startup Coffee, a local event that connects entrepreneurs.
What does the future look like? Segal plans to continue working on bringing her company and Steadiplay to market.
To that end, Steadiplay was one of 37 companies recently chosen to receive a Proof-of-Concept Grant from the Colorado Office of Economic Development & International Trade. The grant will support the transition of Steadi Systems from a research prototype to a clinical proof-of-concept prototype that can be integrated into clinical practice, a critical next step on the path to commercialization, Segal said. Petruska will provide support and guidance in the process, but Steadiplay will need additional expertise in the long run.
"I'm looking to connect with clinicians and health tech experts to help shape Steadiplay," Segal said. "Specifically, I am interested in feedback, guidance, collaboration and opportunities for pilot testing. People with software development expertise for app development and embedded system design would also be helpful to refine my research prototype for long-term efficacy testing in the clinic and at home."
For more information about Steadiplay, contact Segal at ava@steadisystems.com or on LinkedIn (https://www.linkedin.com/company/steadi-systems).
Listen to Segal discuss Steadiplay on the Colorado State University's Center for Healthy Aging podcast "Living Healthy Longer."