Arthur Lakes Library receives donation of historic mining photographs
The Colorado Mining Association photos depict mining activities in Colorado from the 1920s to 1980s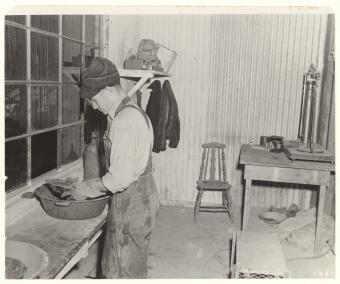 The Russell L. & Lyn Wood Mining History Archive at Arthur Lakes Library recently received an infusion of historic mining photographs courtesy of the Colorado Mining Association.
The photographs, which depict mining activities in Colorado from the 1920s to 1980s, were formally transferred to Colorado School of Mines by Stan Dempsey Jr., president of the Colorado Mining Association, at a special reception on Dec. 13, 2019.
During the reception, Mines Museum of Earth Science curator Ed Raines also gave a talk on the historical context of select photographs from the collection, and staff led tours of the library's Digitization Lab, Preservation and the Mining History Archive Reading Room.
The historic mining photographs are now available in Mountain Scholar, Mines' institutional repository.