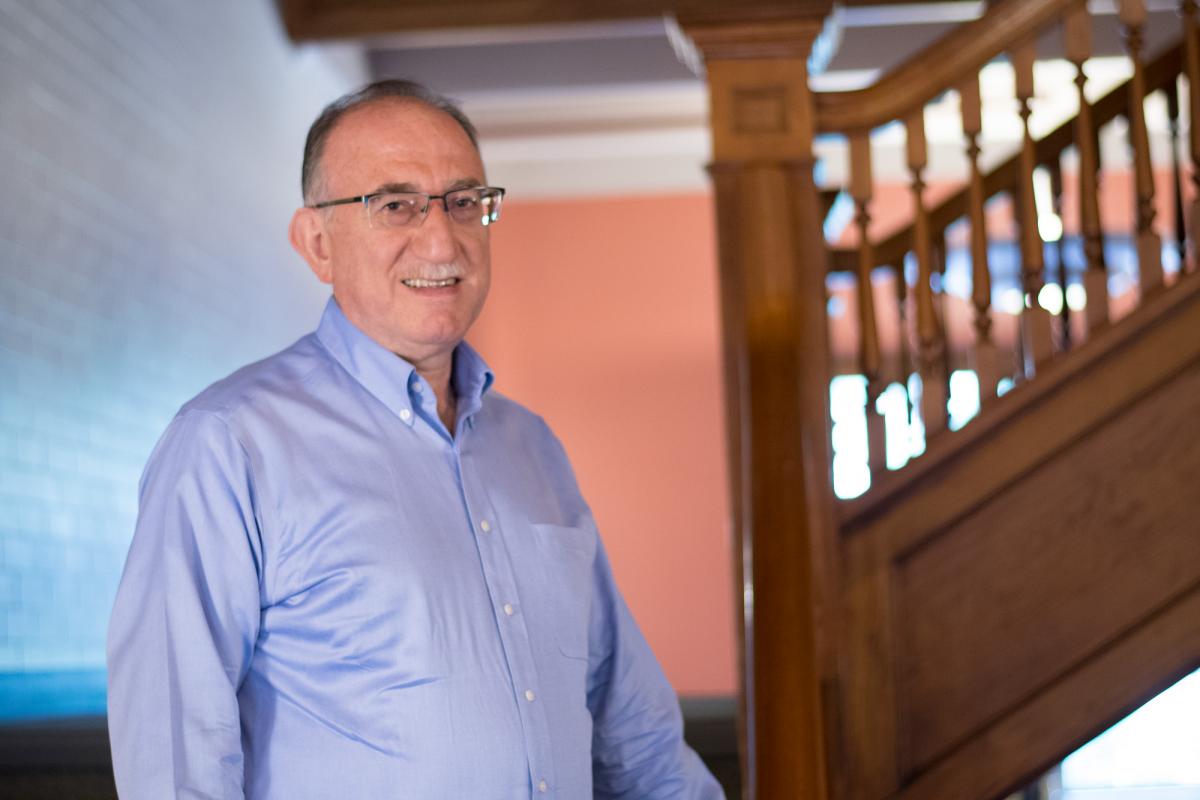 The new director of the Humanities, Arts and Social Sciences (HASS) Division is looking to grow the programs and facilitate the ambitions of its faculty and students.
Hussein A. Amery was appointed director of HASS (previously known as the Division of Liberal Arts and International Studies) in June. Amery joined Mines in 1997 and has served as associate professor, division director and associate provost of the university. He holds bachelor's, master's and doctoral degrees in geography, and his research focuses on water and food security in the Arab Gulf states.
"I'm trying to understand and shed additional light on the national security implications for the Arab Gulf states' reliance on desalination technology," Amery said. "My work tries to paint a more complete picture of this technology by using social science in order to explain the social, political and security dimensions of this extremely valuable technology."
Amery recently published a book titled "Arab Water Security: Threats and Opportunities in the Gulf States" through Cambridge University Press and was recognized by the International Water Resources Association for contributions to water literature.
As director, Amery will oversee the new programs in HASS that enable students to explore cultural, philosophical, ethical, political, environmental and international contexts for complex engineering problems and solutions.
"Our engineering students have diverse interests and are not single-minded." Amery said. "A lot of students today would say, 'I'm here because I want to help society,' and a large number of our engineering students are also interested in music, art and poetry."
In the spring of 2017, the division decided to launch three new programs: Culture, Creativity and Communication, led by Teaching Associate Professor Paula Farca; Global, Energy and Policy Studies, led by Associate Professor Kathleen Hancock; and Environment and Sustainability Studies led by Teaching Associate Professor Joseph Horan. The music program was re-conceptualized into a broader framework and is now called the Performing Arts Program, led by Teaching Professor Bob Klimek. Finally, HASS's McBride Honors Program, now led by Teaching Professor Sarah Hitt, continues to thrive.
"I am extremely excited about the strategic plan that we've agreed to programmatically," Amery said. "These programs will provide a roadmap to help us become more effective in how we deliver our curriculum so to better serve students' diverse interests."
Amery is also looking at rebuilding the HASS graduate program, which has been on hiatus since 2015.
"The revived and rebranded graduate program will reflect the students' interests and the 'earth, energy and environment' focus of our campus," Amery said. "We are reaching out to other departments and engaging them in a more formal, structured way so the program will have linkages across campus."
With 20 years of experience at Mines, Amery is excited to continue developing faculty and staff relationships.
"My primary goal is to help my colleagues succeed in what they do," Amery said. "I want to enable their success. I will do all that I can to promote their excellent research output and creative teaching. Our faculty's dedication to students is unsurpassed."
CONTACT
Joe DelNero, Digital Media and Communications Manager, Communications and Marketing | 303-273-3326 | jdelnero@mines.edu
Mark Ramirez, Managing Editor, Communications and Marketing | 303-273-3088 | ramirez@mines.edu