Amanda Field: "Mines has allowed me to cultivate amazing friendships and mentorships outside of the classroom which I will forever be grateful for."
Windsor, Colorado
Engineering and Technology Management Master's Student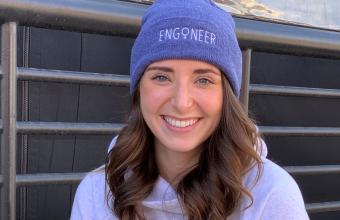 Why did you choose to come to Mines? What have you enjoyed most about being here?
I chose to come to Mines for the small, close-knit community feel. I've always loved getting to know my classmates and professors. Mines has allowed me to cultivate amazing friendships and mentorships outside of the classroom which I will forever be grateful for.
Tell us about something you're working on right now that you find exciting, fulfilling or challenging.
My best friend and I recently decided to put our coursework to the test and create A&C Designs Company, LLC together! Our mission is to empower and inspire women to pursue STEM fields and chase their dreams no matter the barriers they may face along the way. As women in engineering ourselves, we have experienced the disparity first hand. I have loved creating comfortable and fashionable clothing that women can be proud to wear. A&C Designs Company is such a passion project for me and it's been incredibly rewarding and fulfilling to watch it come to life! 
Have you done an internship or co-op or been in a professional job while at Mines? Tell us who you worked for and what you were doing. What stands out?
I have been fortunate enough to have four internships with three different companies in the aerospace and defense industry during my time at Mines. After my junior year, I spent the summer in Promontory, UT with Northrop Grumman (heritage Orbital ATK) working as a test engineer with propulsion systems. I was able to continue that internship into the fall semester remotely working as I continued my mechanical engineering degree classes at Mines. Following that, I accepted an internship with Sierra Nevada Corporation out of Louisville, CO which sprouted out of my ongoing work with them on my senior design team. I was fortunate enough to build strong connections and find ways to contribute to the company outside of just senior design which allowed me to intern for them as a ground operations engineer through the spring semester of senior year. Following my virtual graduation in May 2020, I spent the summer in Sunnyvale, CA interning as a mechanical engineer with Northrop Grumman on marine systems for the U.S. Navy. That internship brought about new challenges and adjustments given that the pandemic was in full swing and I was experiencing a new place and new job all at once! After returning to Mines for my fifth year to finish my ETM master's degree, I started an internship with Ball Aerospace in Boulder, CO as a systems engineering, integration, and test engineering intern which is a role I still hold and will continue until my graduation in May 2021.
What communities, groups or organizations—on- and off-campus—are important to you and why?
There are so many amazing organizations that I've gotten to be a part of during my time at Mines. Student government has made a big impact on me and my experience as Mines. I served as the Sophomore Class President for Undergraduate Student Government (USG) during my sophomore year and then Student Body President for USG my junior year. I encountered some of my biggest challenges and learned so much about leadership and myself in both of these roles. I currently serve as the Academic Chair for Graduate Student Government (GSG) and have loved having the opportunity to connect and engage with so many grad students at Mines. Of it all, my favorite part has been getting to know such phenomenal and driven students across campus. I've learned so much about leadership, compassion, and grit from everyone I've worked with that it really has made my college experience incredibly memorable.
What are your plans for the future? What's your dream job?
I have accepted a full-time position in the Future Technical Leader program with Northrop Grumman which really is my dream job starting out of college! I'll be able to spend the next three years rotating through three, one-year long rotations in three different locations across the country. As someone who loves to travel, learn, and be challenged, I really can't imagine a better place for me to begin my career. Additionally, I have big dreams for A&C Designs Company and can't wait to continue pouring myself into that mission to grow the business and empower women all across the country!
What would you tell someone interested in joining your academic program or Mines in general?
I would tell them that as with most things, the experience is only as good as you make it. Step outside of your comfort zone to meet new people and try new things. Surround yourself with people who inspire and encourage you because that network is incredibly important both as Mines and beyond! Don't be afraid to step into roles that scare you and challenge you - imposter syndrome is real and when (not if) you feel it, know you're not alone. With that being said, don't let it control you - push past those mental barriers and by doing so, you'll experience so much more growth which is really what college (and life) is all about.
What's your favorite thing to do outside of class and coursework? How do you unwind, manage stress, find fulfillment, etc.?
A&C Designs Company has been such a great outlet for me to really express my creativity and passion for bringing more women in STEM fields. I also love to workout, cook fun new dishes, and travel (when it's safe to do so)!
Tell us something about you that most people would be surprised to learn?
I think most people would be surprised to know that A&C Designs Company isn't the first company I've started! I actually started a candle making business when I was 10, so I guess it's no surprise that my entrepreneurial bug is still alive and kickin' :)