Alumna wins Department of Energy award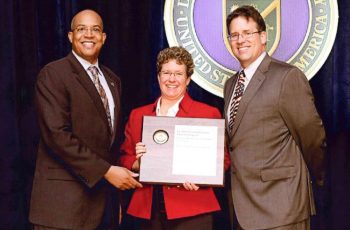 As she peered through windows into labs and classrooms during her prospective student tour of Mines, Denise Dihle '93 had an overwhelming feeling of being "home." While there are no specific words to describe this sentiment, she knew it was a combination of the friendly people on campus, the hospitality and helpfulness of faculty and the openness of the Golden community. Even though she had several other school options, Denise chose Mines and joined a close-knit family of friends during her college years, where she blossomed as a person.
"Yes, I learned a lot from a textbook, and application processes that allowed me to go out into the working world. But it was a growing process, the learning and maturity, the learning of taking control of your destiny and being accountable. And learning how to manage your time and prioritize," she said.
Denise graduated with a mechanical engineering specialty and spent six years in the construction industry. She had the opportunity to start her own engineering firm after that, which she eventually moved to Golden.
Just this year, that firm, Three Sixty Engineering, Inc., was nominated and awarded the U.S. Department of Energy's Woman-Owned Small Business of the Year for 2015. The work the firm has been doing for the National Renewable Energy Laboratory (NREL) was highlighted by the U.S. Secretary of Energy at the award ceremony in Atlanta.
Denise is very proud of the firm's work with NREL, the National Park Service and other organizations around the country and is especially humbled by this recognition. "[The award wasn't] just women-owned engineering firms, it was women-owned businesses, period. Any women-owned business that provided services to the Department of Energy was eligible. So to be able to be highlighted as a women engineer was cool," she said.
Denise's determination at the beginning of her career set her up for this impressive accolade. "What I learned in this industry, early on, as a woman, is I had to do twice as much homework before a meeting. Because if they asked me a question, I had to have the answer on the spot. I really felt that pressure early on in my career. Whereas I watched some of my male colleagues not be prepared for the meeting and they would get a pass. If I was going to make my mark, I needed to be super prepared for meetings and conference calls. By doing that, I started to gain more and more respect in that industry," she said.
This prestigious award affirms her hard work that has set her apart in the industry, as Denise has grown as a professional and expanded her business in Golden, returning to the community she instantly knew she wanted to be a part of when she first toured Mines.
Contact:
Anica Wong, Communications Specialist, CSM Foundation | 303-273-3904 | acwong@mines.edu
Rachelle Trujillo, Senior Director, Marketing Communications, CSM Foundation | 303-273-3526 | rtrujillo@mines.edu