Alexander Garcia: "A combination of a great curriculum and dedicated students stood out to me."
Thornton, Colorado
Mechanical Engineering '19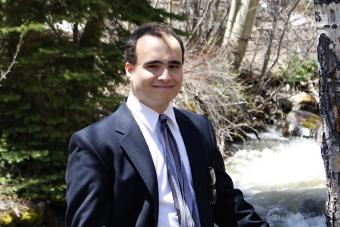 Why did you choose to come to Mines? What have you enjoyed most about being here?
Colorado School of Mines has a great reputation as a nationwide university. In fact, my high school gym teacher mentioned this, not knowing I already wanted to pursue engineering here, thanks to the TV show Mythbusters. A combination of a great curriculum and dedicated students stood out to me the most, with a suitable tuition while commuting locally. I enjoyed the teamwork aspect and the community around Golden—even E-days with the cardboard boat races and fireworks!
Tell us about something you're working on right now that you find exciting, fulfilling or challenging?
As a systems engineer, I am learning the ropes at legacy Raytheon (now Raytheon Technologies) while awaiting clearance. Currently, I am in temporary placement helping track candidates throughout the hiring process, supporting the managers and human resources to improve user experience. At my own pace, there are many great opportunities to learn systems engineering along with software tools like Microsoft SharePoint and programming like Java.
Have you done an internship or co-op or been in a professional job while at Mines? Tell us who you worked for and what you were doing. What stands out?
Yes, it was my first internship after graduating with my Bachelor's in May 2018, deciding to pursue my Masters the next semester. I worked as a product development intern at a Ricoh USA facility focused on production solutions for Commercial and Industrial Print (CIP). Given high-speed inkjet printers, the task was to create a newly automated and versatile system that can analyze ink conditions within three months. The goal was definitely challenging starting from scratch, especially since former manual tests require different parameters and procedures. Along with teamwork, research outside your usual zone is key to make any development possible with better quality.
What communities, groups or organizations—on- and off-campus—are important to you and why?
Robotics Club and Tau Beta Pi were big contributors towards community involvement, especially at Mines. Many events were engaging for career development and for fun engineering activities like robotic competitions. In addition, volunteering services such as YMCA playground construction, STEM education, soup kitchen and E-days further instigated my desire to help others wherever possible.
What are your plans for the future? What's your dream job?
My plan is to continue learning software development and later apply my mechanical engineering background into robotic automation. Many recent strides in aerospace show that new fields like asteroid mining are becoming possible in space. In addition, I like to pursue more opportunities in STEAM ("A" being art) and help with humanitarian efforts.
What would you tell someone interested in joining your academic program or Mines in general?
I always encourage anyone to take a new challenge or opportunity and learn the resources available. Keep an open-mind especially in life, as you may find something outside your comfort zone very valuable.
For Mines, pursue a combined Bachelor's and Master's program if you want to do graduate studies also. Though it is extra effort, it will pay off to finish early. In addition, get to know your fellow classmates, as they have the same dedication to pursue engineering or your major.
What's your favorite thing to do outside of class and coursework? How do you unwind, manage stress, find fulfillment, etc.?
Video games! My work ethic keeps me going, but I try to remember to take short breaks and get some good rest before the next day. Physical workout is also helpful—I enjoy racquetball. In stressful situations like senior design, I reassure myself to try my best and take a breather outside the work area or two.
Tell us something about you that most people would be surprised to learn?
I am proud to be the first engineer of my family and both of my parents were born in Cuba!