ADAPT integrates additive manufacturing into Army vehicle fleet
Through additive manufacturing, a Colorado School of Mines led team is helping the U.S. Army improve performance and lower cost in their ground vehicle fleet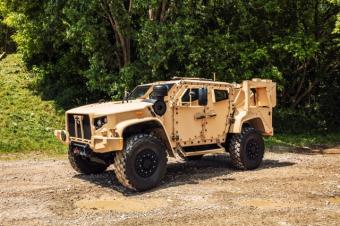 The U.S. Army is exploring new possibilities for implementing additive manufacturing– also known as 3D printing – with help from the Alliance for the Development of Additive Processing Technologies (ADAPT) at Colorado School of Mines.
Working through a contract with America Makes, a collaborative association that connects member organizations from industry, academia, government and non-government agencies, ADAPT is creating faster and more efficient ways to implement additive manufacturing within the Army's ground vehicle fleet. The project kicked off in December 2020.
Additive manufacturing can provide the Army with certain advantages over traditional manufacturing, said Craig Brice, professor of practice in mechanical engineering and executive director of ADAPT.
While additive has advanced rapidly in the past decade, most of the focus in the military has been on high-value parts in the aerospace sector. The ground vehicle sector has lagged as the economics are more challenging and the performance demands are not as stringent.
For this project, a short list of candidate parts will be selected, and the team led by ADAPT will work to mature the pathways necessary for implementation.
"One of the biggest challenges in additive manufacturing is the qualification and certification path for new processes and new parts," Brice said. "There are stringent requirements that must be met that ensure that the parts will perform as expected in service. Our team will develop improved pathways for AM part implementation into the Army ground vehicle fleet."
With additive manufacturing, there are fewer limitations on what can be created, and, in some instances, AM fabricated parts can actually perform better than those manufactured traditionally. For example, if a vehicle uses three separate parts that would normally need to be welded together for installation, one part can be created through additive manufacturing, eliminating both the time and labor needed for welding, along with the link created by the weld itself.
"The Army views AM as a key enabling technology in advancing its strategic priorities by improving vehicle component performance, augmenting the supply chain and reducing the sustainment burden," said Jim Heading, U.S. Army Ground Vehicle Systems Center Advanced Material Applications and Manufacturing Branch Chief. "The qualification of AM components is a limiting factor in adopting its advantages into fielded platforms. A data-driven approach to qualification allows for technology to transition more quickly to the warfighter and increase readiness on the battlefield."
Once the project progresses, Brice said ADAPT hopes to develop new materials that both perform well in additive manufacturing and are useful substitutes for the metals used in conventional manufacturing.
"The AM community has largely used alloys developed for some other process like casting," Brice said.
"Over the course of the project we hope to develop improved alloys that are tailored to AM and have improved reliability and performance."
Founded in 2016, ADAPT is an industry-academia consortium that advances data informatics and advanced characterization technologies to optimize processes for additive manufacturing. Based at Mines, members of ADAPT benefit from access to world-class expertise, breakthrough technologies and cutting-edge research across the additive manufacturing process chain.
"When America Makes developed the Additive Manufacturing Technology Roadmap, it was with these types of project in mind – projects seeking to identify and solve measurable and meaningful challenges that can help advance additive technology," said America Makes Executive Director John Wilczynski. "The effort by the Colorado School of Mines ADAPT team will help drive advancement in new qualification methods that will have a lasting impact on the US Army's vehicle fleet. We are proud to support them on this journey."