9 things to know about Mines' new Vice President of Student Life
Braelin Pantel joined Mines over the summer to oversee all of the institution's student programming and services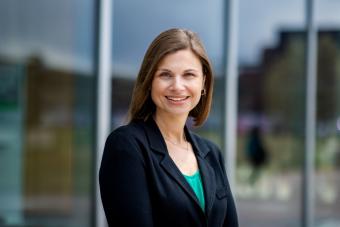 Colorado School of Mines welcomed students back to campus today for the first day of the 2022-23 academic year — including its largest incoming class in university history.
The 1,665 first-year and transfer students aren't the only ones marking an important moment in their Mines journey, though.
It's also the start of the first full semester for Mines' new vice president of student life, Braelin Pantel.
Dr. Pantel joined the Mines community over the summer from Metropolitan State University of Denver, where she served as the associate vice president for student engagement and wellness.
Here are nine things to know about Braelin:
1. She is the daughter of a civil engineer.
"I lived above my dad's engineering firm for a portion of my childhood," Pantel said. "Related to this, my first 'job' was helping run the blueprint machine, typing up invoices for his clients and assorted other office tasks."
2. She backpacked 100 miles of the Colorado Trail on her honeymoon.
She hasn't stopped there, either. She has since hiked all but roughly 100 miles of the 567-mile trail between Denver and Durango, with just the section closest to Durango left to complete.
3. She holds a PhD in higher education administration and student affairs leadership.
Her dissertation research, at the University of Northern Colorado, focused on body weight stigma and bias on college campuses. "I am interested in issues related to how the campus environment impacts students' lived experiences," she said.
4. She has been to every state in the U.S. except Alaska.
5. She's an animal lover and used to have a weekly gig wrangling adoptable cats and dogs on the CBS4 Denver morning news show.
As Channel 4's 'Pet of the Week' handler, she facilitated quite a few pet adoptions for the Max Fund Animal Shelter.
6. In college, she was a student athlete.
Pantel rowed crew at the NCAA Division III level at Union College. A highlight was rowing in the Head of the Charles, a major regatta in Boston.
7. She started her career in higher education straight out of college as a leadership consultant for her sorority.
"I visited close to 50 college campuses across the country in about eight months – it was a whirlwind but cemented my interest in working on a college campus and crafting meaningful experiences for college students," she said. "I also became a very savvy airplane traveler and packer that year!"
8. She's a mother to two girls, ages 4 and 8.
9. She loves ice cream.
Anyone know if the Mines Ice Cream Club is still active? Anyone?