Braelin Pantel named Vice President of Student Life at Colorado School of Mines
A 20-year veteran of higher education in Colorado, Dr. Pantel currently serves as associate vice president for student engagement and wellness at MSU Denver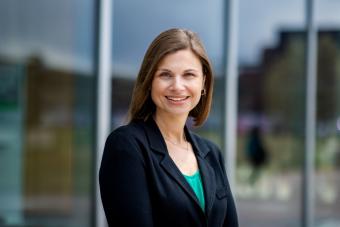 Colorado School of Mines has selected Braelin Pantel as its next vice president of student life.
A 20-year veteran of higher education in Colorado, Dr. Pantel currently serves as associate vice president for student engagement and wellness and dean of students at Metropolitan State University of Denver. She will officially join the Mines community on July 11.
As vice president of student life, Dr. Pantel will serve as Mines' chief student affairs officer and oversee all of the institution's student programming and services, including advising, student activities, athletics, residence life and dining, health services, student counseling, accessibility services, fraternity and sororities, student professional development, career services and more. As a member of the president's executive cabinet, Dr. Pantel will play a key role in advancing Mines' strategic priorities for student recruitment, success, and professional development.
"Braelin brings a track record of building strong partnerships with students, faculty and staff across the campuses she has served, and I have been impressed by her commitment to student success and well-being, and her collaborative and innovative approach to supporting those goals," said Paul C. Johnson, president of Colorado School of Mines. "I look forward to working with Braelin and our Student Life team to continue to advance the MINES@150 initiatives they are leading, including those related to signature student experiences, professional development, living-learning communities, and student wellness."
At MSU Denver, Dr. Pantel has been a key leader of the university's student affairs branch since 2010. The regionally accredited public university and designated Hispanic Serving Institution enrolls more than 17,000 students. In her role as associate vice president, she served as the primary administrator responsible for student needs, advanced the student experience, and provided leadership, strategic vision and budgetary oversight for 13 student-facing departments, including Campus Recreation, Counseling Center, Health Center at Auraria, Immigrant Services Program, LGBTQ Student Resource Center, Center for Equity and Student Achievement, Center for Multicultural Engagement and Inclusion, and Veteran/Military Student Center.
Dr. Pantel began her time at MSU Denver in 2010, serving first as associate dean for student engagement & wellness before being promoted to associate vice president in 2014. Prior to that, she worked at several other Colorado institutions, including the Rocky Mountain College of Art + Design, in student activities, international student services, disability services, new student orientation and student conduct.
"I'm excited to make the transition to Mines – the focus inherent to the Mines experience is something I'm really excited to leverage to support student engagement and the notion of community building within higher education," Dr. Pantel said. "Mines students are coming to campus with intentionality and passion for their academic pursuits and that's really powerful when it comes to student engagement, student support and student life."
Dr. Pantel holds a PhD in higher education administration and student affairs leadership from the University of Northern Colorado, MA in higher education administration from the University of Denver and B.S. in psychology from Union College. She will take the reins of the Mines Student Life Division from Daniel P. Fox, Ph.D., who will retire this summer after 17 years of service at Mines.
"I am committed to creating a healthy and safe campus environment where Mines' diverse students thrive," Dr. Pantel said.  "I've done a good deal of work related to student access to mental health and have created structures within a university community that prioritize student wellness. I'm excited to continue to do this work within the Mines context and partner with colleagues across the institution in doing so."