Colorado School of Mines conferred 204 master's degrees and 39 doctoral degrees May 9 at its Spring 2019 Graduate Commencement, kicking off two days of commencement exercises at the university.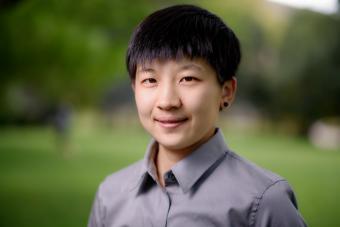 The
Dr. Bhakta Rath and Sushama Rath Research Award
, which recognizes the Mines doctoral graduate whose thesis demonstrates the greatest potential for societal impact, was awarded to
Yalin Li,
PhD in civil and environmental engineering.
Li's research focuses on biologically tailored wastewater biosolids and the coupling of wastewater treatment with microalgae cultivation to harvest the "waste" aqueous organics and offer unique opportunities towards next-generation bio-refineries.
"I was exceedingly fortunate to work with Yalin, benefiting from her creativity and drive to revolutionize the ways in which society manages wastes for a more sustainable future," said advisor Timothy Strathmann, professor of civil and environmental engineering. "While many in the field of environmental engineering are working to improve the energy efficiency of wastewater treatment operations, Yalin took a more revolutionary approach in her dissertation, integrating innovative biological and hydrothermal technologies to recover 'resources' present in wastes as high-value chemicals and transportation fuels. This approach has the potential to transform wastewater treatment facilities into 'wastewater bio-refineries' that sustainably produce a suite of valuable products while simultaneously providing clean water resources."
ADDITIONAL GRADUATE STUDENT AWARDS AND RECOGNITIONS
The Mendenhall Prize is awarded by the Department of Geophysics to the department's outstanding graduate student: Ivan Lim Chen Ning, PhD
The Lohmiller Award for Outstanding TA is presented to teaching assistants in the Department of Metallurgical and Materials Engineering who, through teaching, tutoring and mentoring, has demonstrated a strong commitment to student success: Jonah Klemm-Toole, PhD, Metallurgy and Materials Engineering; and Rilee Meagher, Master of Science, Materials Science
The Three-Minute Thesis Competition celebrates research conducted by thesis-based graduate students around the world. The competition cultivates students' academic, presentation and research communication skills and increases their capacity to effectively explain their research to a non-specialist audience: Halley Keevil, PhD, Geology
UNDERGRADUATE COMMENCEMENT SET FOR MAY 10
The Colorado School of Mines Spring 2019 Undergraduate Commencement will take place Friday, May 10 in three separate ceremonies at 9 a.m., 1 p.m. and 5 p.m. at Lockridge Arena. Live webcasts will be available on the Mines YouTube channel. For more information, go to
commencement.mines.edu
.
MORE COMMENCEMENT PHOTOS
● View photos from the graduate ceremony (link to come)
● View photos from undergraduate ceremony (link to come)