Claire Teklitz: "The only thing cooler than building rockets is launching them."
Colleyville, Texas
Mechanical Engineering Student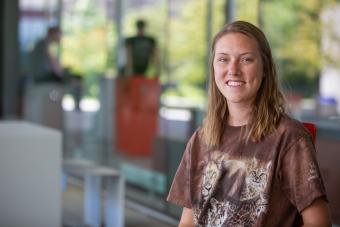 Tell us about something you're working on right now that you find exciting, fulfilling or challenging.
I'm in Arabic 1 right now and it's super hard but also really exciting. Every day I get to learn something new that I can apply to real-life interactions, but it is also pretty hard learning a new language with a different alphabet.
Have you done an internship or co-op or been in a professional job while at Mines? Tell us who you worked for and what you were doing. What stands out?
This past summer I interned with United Launch Alliance (ULA) at their factory in Decatur, AL. I worked in production operations so I got to do things like develop tools for production of their new rocket and organize hardware. The coolest part of my job is that I literally worked in a rocket factory, so every day I got to walk around and see the progress made on real rockets that will go into space.
What communities, groups or organizations—on- and off-campus—are important to you and why?
American Society of Mechanical Engineers! I've been on the board for four years and I love it! We bring in companies, hang out with faculty and do cool projects like tricking out a barbie car. It's a great group of people and I would totally recommend checking it out.
What are your plans for the future? What's your dream job?
I'm excited to say that when I graduate (in May whoot whoot!) I'll be working for ULA at their launch site in Cape Canaveral because the only thing cooler than building rockets is launching them.
Tell us something about you that most people would be surprised to learn.
I want to teach a cat to walk on a leash. I have a grand dream of walking my cat on the beach at sunset after work.