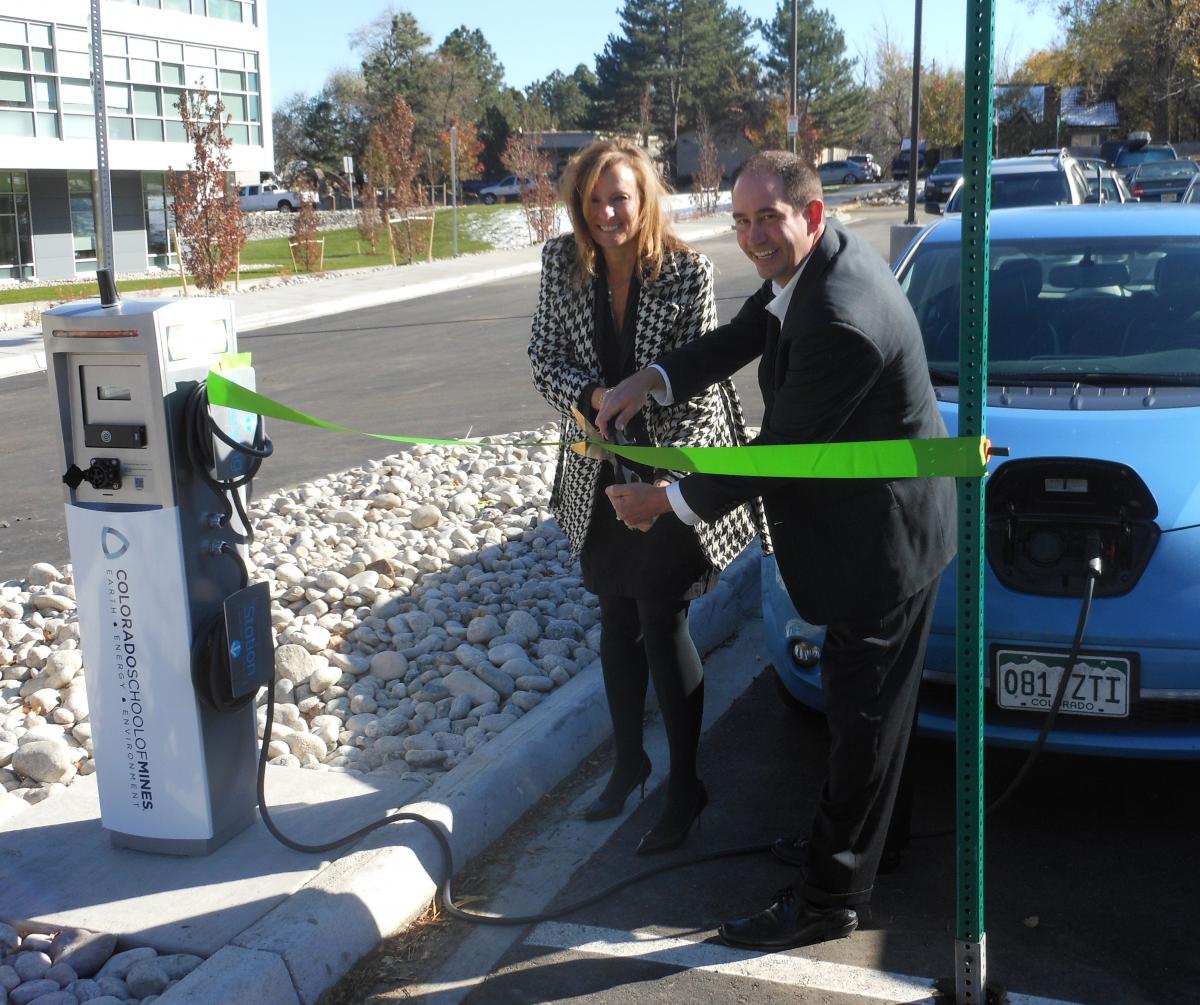 Mines Executive Vice President for Finance & Administration Kirsten Volpi and Regional Air Quality Council Program Director Steve McCannon cut the ribbon on a new campus EV station.
GOLDEN, Colo., Nov. 13, 2015 – In a move designed to help make it more convenient for members of the Colorado School of Mines community to choose environmentally-friendly modes of transportation for their commute, the university has installed electric vehicle charging stations on campus.
Thanks to financial support from the Regional Air Quality Council and the Colorado Energy Office, Mines now has two single port stations and two dual port stations that can charge six vehicles at a time. The stations will allow faculty, staff, students and visitors the chance to charge their vehicle for free (a valid Mines permit or meter receipt is required) for a max of four hours per day. 
As a result of this initiative, Mines received the 2015 EV Wired Workplace award signed by Gov. John Hickenlooper from Charge Ahead Colorado, an electric vehicle and infrastructure grant-funding program formed in partnership by the Regional Air Quality Council and the Colorado Energy Office, for the university's dedication and commitment to electric vehicles, the environment, energy security and its employees.
The new EV charging stations, located in the CT, E and F parking lots, add to the many sustainable transportation options available at Mines, including a Zipcar rental program and RTD access. 
Contact:
Karen Gilbert, Director of Public Relations, Colorado School of Mines | 303-273-3541 | kgilbert@mines.edu
Kathleen Morton, Digital Media and Communications Manager, Colorado School of Mines | 303-273-3088 | kmorton@mines.edu