GOLDEN, Colo., Jan. 19, 2016 – What would you design and build with $2,000? How about $30,000? Colorado School of Mines and Newmont Mining Corporation want to see what products students can develop that will make the mine of the future safer, more sustainable, energy efficient and environmentally sound. On Jan. 23, teams will present prototypes featuring their innovations and will be judged on how well they demonstrate a high probability of success.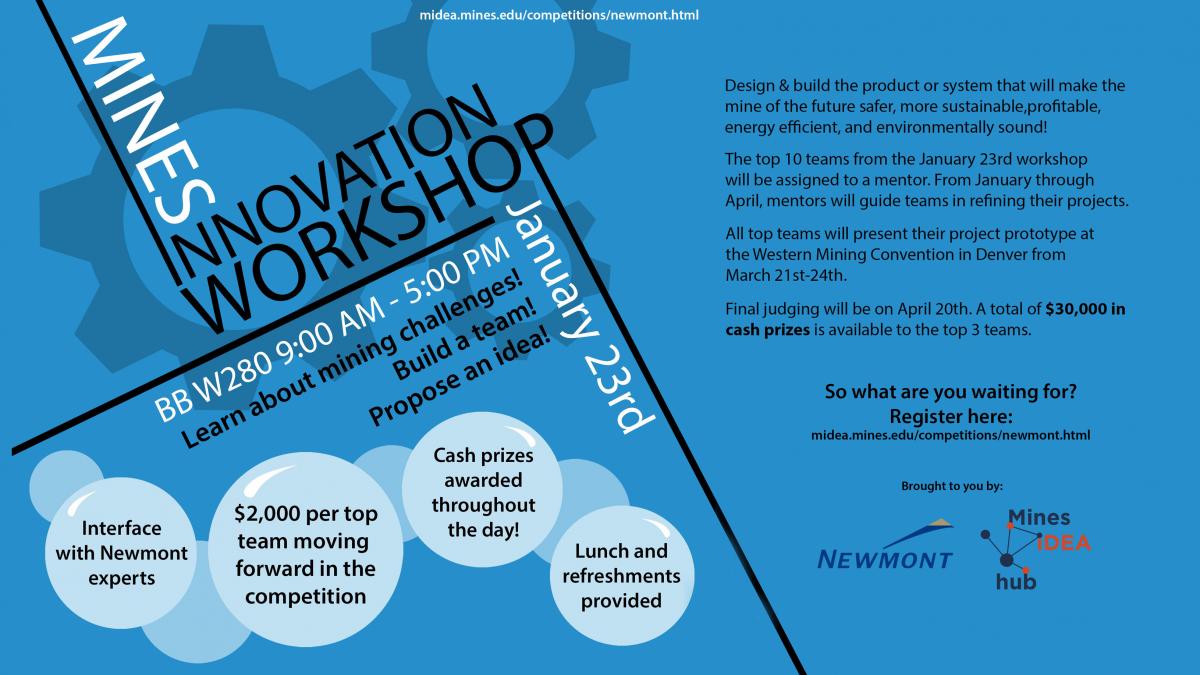 "The innovation competition is incredibly exciting because Mines has never done something like this before," said Asya Sergoyan, chemical engineering student. "We will have the unique opportunity to work with experts to make something new and innovative. This contest has the potential to make a huge difference for all of us, but especially the student winners."
The top 10 teams will receive $2,000 each to further develop and refine their ideas. Those teams will move on to present their project prototypes March 21-24 at the Western Mining Convention. Projects will be reviewed based on creativity, innovation, probability of commercialization and effectiveness. Final judging will be on April 20 when finalists will give a 10-minute pitch to a panel who will evaluate the team and quality of product. A total of $30,000 in cash prizes will be presented to the top three teams.
"Newmont is pleased to sponsor this innovative approach to encouraging students and researchers to develop solutions to some of the difficult problems and challenges that the mining industry faces in the 21st century," said Perry A. Eaton, Group Executive Global Exploration Solutions of Newmont Mining Corporation. "Colorado School of Mines is uniquely positioned to continue to be a source of such solutions."
Register at midea.mines.edu/competitions.html.
About Newmont Mining Corporation
Newmont Mining Corporation is one of the world's leading gold producers, and an industry leader in safety and sustainability. The Company was founded in 1921 and has been publicly traded since 1925. Headquartered in Colorado, Newmont has approximately 28,000 employees and contractors, the majority of whom work at operations in the United States, Australia, New Zealand, Peru, Indonesia and Ghana.
About Colorado School of Mines
Colorado School of Mines is a highly selective, public research university, offering bachelor's, master's and doctoral degrees in engineering and applied sciences. Mines is internationally recognized for its education and research programs focusing on stewardship of the earth and its resources, developing advanced materials and applications, addressing the earth's energy challenges, and fostering environmentally sound and sustainable solutions. 
Contact:
Kathleen Morton, Digital Media and Communications Manager, Colorado School of Mines | 303-273-3088 | kmorton@mines.edu
Karen Gilbert, Director of Public Relations, Colorado School of Mines | 303-273-3541 | kgilbert@mines.edu