GOLDEN, Colo., Sept. 7, 2015 – On May 25, 2014, the longest landslide in Colorado history devastated the small agricultural community surrounding West Salt Creek in Mesa County. Three people perished when a saturated hillside gave way and a massive rock avalanche swept over the valley. Continuing threats to nearby residents remain.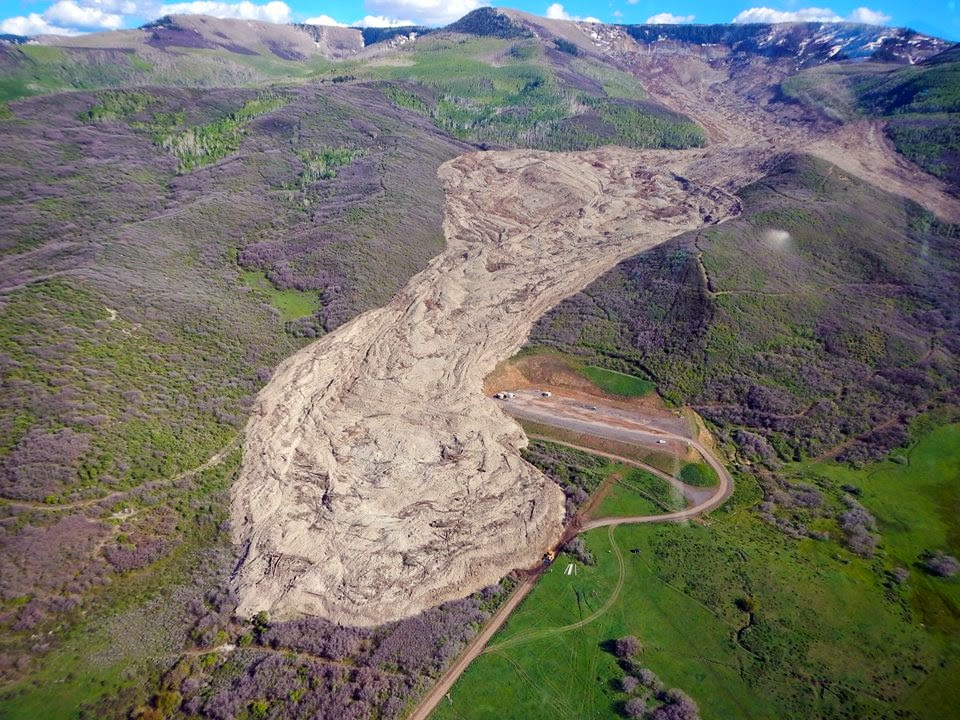 Photo Credit: Jon White/Colorado Geological Survey
The first published study, released by the Colorado Geological Survey (CGS), reveals that the West Salt Creek landslide was unusually mobile and large. The landslide was 2.8 miles long, fast-moving (40-85 MPH), covered almost a square mile, and the net volume displacement was 38 million cubic yards.  
A major focus of the CGS study is to understand the causes and effects of the landslide's high mobility. Because high-mobility landslides can quickly overrun large areas, they present a significant risk to public safety. A better understanding of the West Salt Creek event can be used to improve future landslide risk assessments. The Colorado School of Mines Department of Geology also assisted in the study.  
The study covers the regional setting, evidence of past landslide activity, landslide modes of failure, triggering mechanisms, monitoring, long-term hazard assessment, and land-use recommendations. Bulletin 55 – "The West Salt Creek Landslide: A Catastrophic Rockslide and Rock/Debris Avalanche in Mesa County, Colorado" can be downloaded directly from the Colorado Geological Survey website or through the CGS bookstore by searching for Bulletin 55.
Contact:
Matt Morgan, Senior Research Geologist, Colorado Geological Survey | 303-384-2647 | mmorgan@mines.edu
Karen Gilbert, Director of Public Relations, Colorado School of Mines | 303-273-3541 | kgilbert@mines.edu