Women in computer science at Mines are rising stars in research and innovation
In honor of Women's History Month, we are sharing the stories of three female students in the Computer Science PhD program and their impact on the future of computing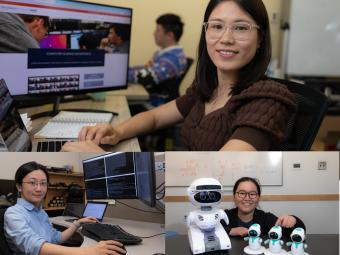 In today's era of fast-moving technology, being at the forefront of artificial intelligence research is something to be noted.
Mines computer science PhD students Sihui Li, Qi Li and Ruchen Wen have published a combined 35 first-authored papers. They have demonstrated initiative, creativity and growth in the field. They are influencing others by teaching courses such as Computer Vision and mentoring young women who are curious about computer science.
The three women have made exceptional progress in their research this year, and in doing so, they are a part of history in the making.
We talked to Sihui, Qi and Ruchen about their research in computing and what it's like to be part of the computer science community at Mines.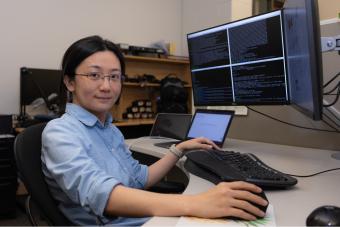 Sihui Li: Building algorithms to help robots problem solve
It was while working on a master's degree in mechanical engineering at Rensselaer Polytechnic Institute that Sihui Li became interested in robotics.
Li decided to pursue a PhD in the field of robotics but struggled to find the right adviser to help her focus on the algorithm side of robotics. Then, she found Mines Assistant Professor Neil Dantam. She started at Mines in the summer of 2019 and expects to complete her PhD in 2024.
"A big reason I wanted to do my research at Mines is that we have a community here that focuses on the different aspects of robotics research," she said. "The lab I work in is focused on the algorithm side of robotics but there are other groups here with other focuses and that really enables collaboration."
Li's research is in robot motion planning and how to create algorithms that allow robots to problem solve. For example, if a person is trying to grab an item from the back of a cluttered cabinet, that person can easily figure out how to move things around to find what is needed. But a robot not programmed to understand the size of the cabinet or all the objects inside wouldn't have that ability. Li is working on an algorithm that would help robots understand when to stop trying an unsuccessful plan repeatedly and find an alternate way to complete its tasks.
Li's latest published papers include "Sample-Driven Connectivity Learning for Motion Planning," International Conference on Robotics and Automation (ICRA), 2023, and "A sampling and learning framework to prove motion planning infeasibility," The International Journal of Robotics Research (IJRR), 2023.
By working with other Mines research groups, Li said she collaborates with a lot of other women. She also has many women enrolled in the computer science courses she teaches.
"The women in my classes are active in engaging during class, and active in taking efforts to complete the course projects and I always see that they are eager to learn in their data interaction with me," Li said.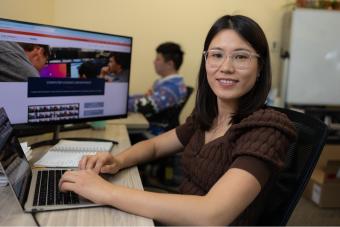 Qi Li: Improving the security and energy efficiency of the Internet of Things
Qi Li joined the Mines community in 2022 as a PhD student. As a graduate student at Florida International University, Li worked with Professor Dong Chen for three years. When Chen was hired on to the Mines faculty in 2022, Li followed him here. 
Li's research focuses on the intersection of machine learning and how to make computers systems – especially those used through the Internet of Things (IoT) – both secure and energy efficient. Li's research also considers how to make smart grids systems more energy efficient. 
"Everybody now uses IoT through smartphones, Ring doorbells, Alexa, that kind of thing," Qi Li said. "These devices are always gathering data about us, so it's a privacy concern if that information is leaked, and people can take advantage of it."
One of Li's recent achievements was being nominated for the 2023 College Student Outstanding Young Woman in STEM Award from the Colorado Women's Day Awards. She was recognized for being the lead author on multiple papers, her mentorship of undergraduate students and the quality of her research.
In addition to her research accomplishments, at Mines, Li said she's been able to participate in workshops for women to share their experiences, which has helped her improve both her communication skills and confidence. She also participates in programs through the Computer Science Department that introduce high school girls to computing and encourages them to join the field.
"At Mines, there are a lot of chances for women to excel and to reach out to younger generations to encourage them as well," she said.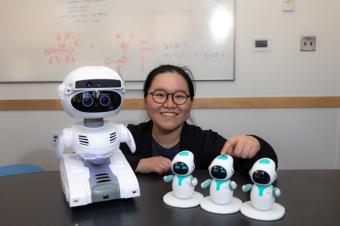 Ruchen Wen: Implicit and explicit design in robots and how that affects human interaction
Ruchen Wen originally thought she wanted to become a game developer. But an elective course in robotics, during her master's studies at the University of Wisconsin-La Crosse, got her thinking about a different path.
Pre-pandemic, on a visit home to China, she stopped by her undergraduate university and bumped into an old professor. By coincidence, her professor there had been promoted to running the university's robotics lab and invited Wen to try out some of the robots. She ended up staying in China for several weeks, playing around with the robots and writing applications for them.
After the robotics elective and her time in China came to an end, Wen found that what she really wanted to do was human-robot interactions. Her robotics professor at UW-La Crosse encouraged her to look into PhD programs in the field, which is what brought her to Mines.
"Human-robot interactions is not a hugely popular research area. It's growing, but it's a relatively new field," she said. "Associate Professor Tom Williams, who's now my adviser, had just begun to do his robotics work at Mines, so I applied here in hopes of working with him."
Wen has been working with Williams' Mines Interactive Robotics Research – or MIRRORLab – ever since. She's focused on enabling morally and socially competent robots, and how robots can affect human interactants with them through implicit and explicit design. For example, it's become common to address virtual assistants like Siri or Alexa by saying "hey" and then demanding an action. This can affect how people not only interact with their devices, but also with other humans.
"We should think about maybe little things like different types of wake words. Maybe instead of 'Hey,' we can have people use 'Excuse me, robot,' or more polite language like that," Wen said. "It might prime people to apply social norms when talking to robots."
Wen is especially interested in how people interact with robots and other AI agents and how that affects their behavior and thinking process. She hopes her research can better inform the design of future AI devices and have a positive impact on how people interact with them. She said they've found that certain robot designs are helpful in encouraging prosocial behaviors, such as using more polite language with everyone around them, robot and human alike.
Ruchen also recently had the honor to present her paper "Fresh Start: Encouraging Politeness in Wakeword-Driven Human-Robot Interaction" at the 18th ACM/IEEE International Conference on Human-Robot Interaction (HRI) this spring.
Though she stressed that all her Mines professors are great, as an international student who often feels unsure if she should reach out to faculty, Wen said she sometimes finds it easier to reach out to her professors who are women. She also said the MIRRORLab has a healthy gender ratio, which helps contribute to creating an atmosphere that is comfortable and welcoming.
"Back when I started, it was before the pandemic and I was one of the first PhD students to join the MIRRORLab," Wen said. "I was new here and I would rarely speak up during live meetings or not talk as much. I would think, 'What if I say something wrong?' or they don't understand what I'm talking about? But over time, I've become much more comfortable. I feel like it's because I know I have support not just from fellow students, but also faculty and staff. I feel welcome here at Mines."
Women in computing now and in the future
Looking ahead, Dr. Iris Bahar, professor and department head of computer science at Mines, is committed to growing the number of women in computer science.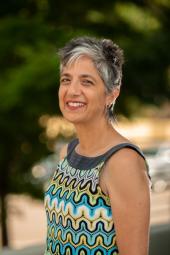 "I am so proud and encouraged to see the amazing accomplishments of Sihui, Qi and Ruchen.  They are superstars and have become great role models for all future graduate students at Mines," Bahar said. "What has also become clear is that critical mass of women is often an important factor in their success. They are more likely to feel welcome, included and appreciated for their knowledge and contributions." 
At Mines, the Computer Science Department is creating that critical mass by attracting talent from around the world. Women make up a significant portion of the faculty and student population in computing.
"Creating an approachable and intellectually stimulating environment is key to bringing more women of all backgrounds into the field of computing," Bahar said.
According to a 2021 survey by the National Center for Women & Information Technology, while women make up 57 percent of the professional workplace in the United States, only 26 percent of professional computing positions are held by women. Mines is addressing that disparity by reaching out to girls as young as 8 years old through STEM outreach programs for young women that connect Mines students with local community. Two highly successful programs include DECtech, geared toward girls in 3rd to 8th grades, and Xilinix: WORTH, a series of workshops for Mines undergraduate women interested in exploring a career in computer engineering.
"It's programs like these that are defining the future for women in computing. We are proud to be in a position to help lead this initiative to introduce computer science to those who might otherwise not have the opportunity," research associate Christine Liebe said.