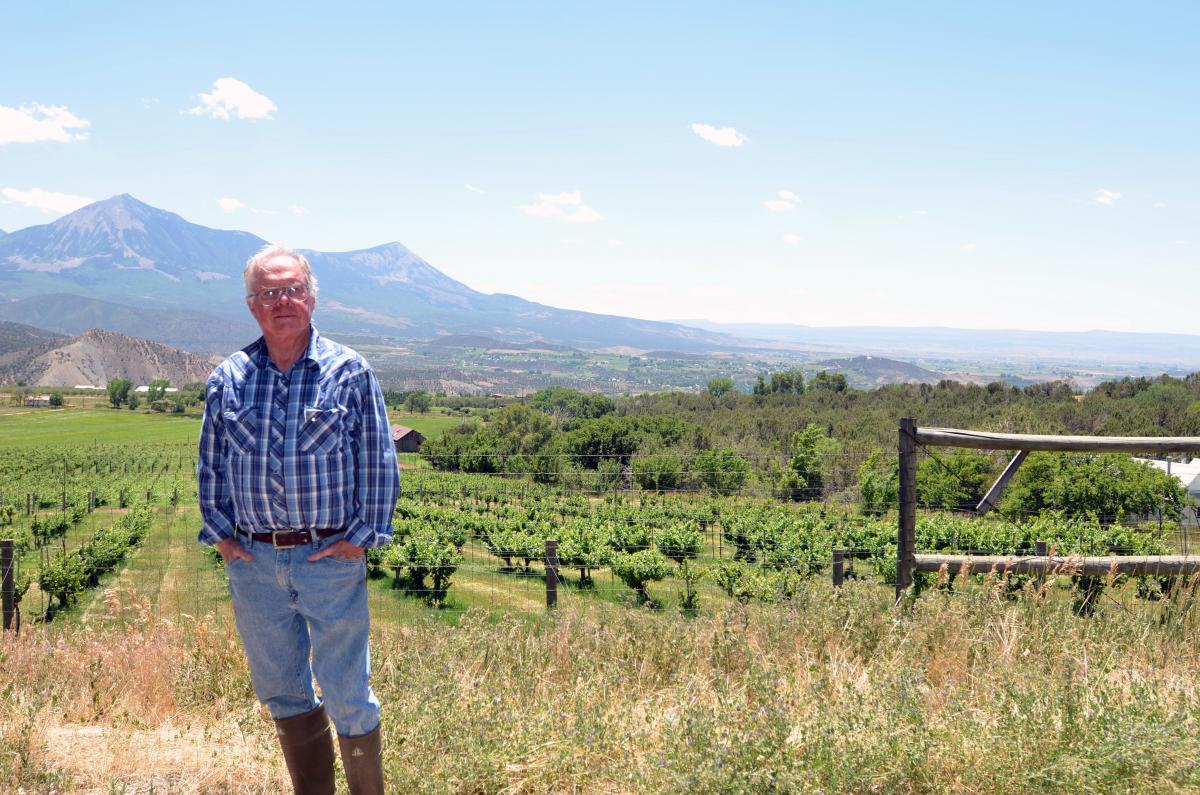 When John Mathewson '53 retired from oil and gas exploration at the age of 60, he and his wife, Joan, moved to the western slope of Colorado, bought a winery and started a new phase in their lives.
After spending 26 years as expatriates in places such as Egypt, Tunisia, Morocco, Nigeria, Tanzania, Yemen and Syria (one of their favorites), John and Joan became vintners under the Terror Creek Winery label in 1992, named for the local creek that had notoriously been known to run its banks and cause big boulders to roll down the ditch. Their retirement plan had always included owning a winery, so when John worked in Saudi Arabia for Western Geophysical (which was later bought by Schlumberger), Joan took winemaking classes in Switzerland and interned at nearby vineyards. On a visit to Colorado, a friend alerted them to the vineyard in Paonia, which was owned by Chicago residents. After striking a deal, they moved stateside from Nigeria and started their new business.
"There were just eight rows (of grapes)," John remembered. "We started enlarging it. Must be about 150 rows or so now."
With clean, crisp mountain water, warm days and cool nights, the Mathewsons worked the land and grew their vineyard, the first in the North Fork Valley at the time. Joan's experiences at the vineyards outside of Geneva, some of which had terracing dating clear back to the Romans, prepared them as they started to pick which type of grapes to plant and what style of wine they wanted to produce. Because of her background, they went with Alsatian-style wines, including dry Reislings and Gewürztraminers that seldom have an oak barrel aroma and are crisp, fruity and sometimes spicy. Their Gewürztraminer is one of their best sellers.
The second act of their lives and the success of the winery was set up by years in the oil and gas industry around the world.
John, originally from Pasadena, transferred to Mines with several other students at Pasadena City College and got a professional degree in geological engineering. He spent two years in ROTC and after graduation, went on to serve in the Korean War. He and Joan got married as soon as he was out of the military, and he then went to work for Western Geophysical and was the manager for various foreign countries.
"We were in Egypt during the '76 war, watching the Israelis fly over and we were in Tunis during the '67 war," said John. "We were down in Aden when the Brits were pulling out of their British colony, of south Yemen, and we saw a lot of terrorist stuff. They'd sit up on the side of the mountain and take potshots and shoot rocket launchers at night."
The couple had two boys and raised them all over the world; they speak four languages. One son, John Matheson BS '81, MS '08, followed in his father's footsteps, graduating from Mines and then working for Schlumberger. Their other son worked with drones in the Air Force and now lives in Virginia and owns a craft brewery.
Now, 24 years into the winery business, John and Joan still do wine tastings during the summer in their small, humble tasting room, but the reality of working 260 acres at 86 years old is becoming acutely felt (although John still goes skiing and knows that it takes exactly one hour and 45 minutes to get to Aspen/Snowmass ski resort). Their third act, following a life of world travels and wine, is wide open.
Contact:
Anica Wong, Communications Specialist, Colorado School of Mines Foundation | 303-273-3904 | acwong@mines.edu
Rachelle Trujillo, Senior Director of Marketing and Communications, Colorado School of Mines Foundation | 303-273-3526 | rtrujillo@mines.edu