Why Mines? Four alumni share their stories of how a Mines degree helped them pursue their dreams
"Mines gave me the ability to look at problems and find solutions, and that's the lens I apply to all issues," said one alum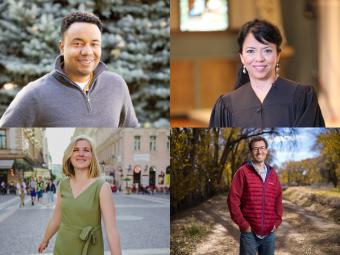 A degree from Colorado School of Mines is more than just a foot in the door of leading companies and institutions. The journey from M Climb to Commencement helps Mines graduates develop the skills to pursue any dreams they put their mind to.
These four stories from Mines Magazine showcase four unique directions taken by Mines grads and how the skills learned on campus translate to success after graduation. 
---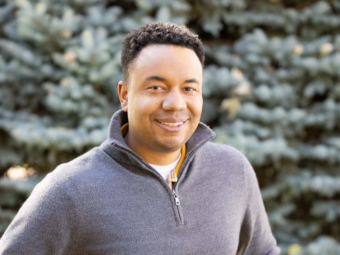 Environmental engineering alum leads by putting others first
By Ashley Spurgeon, Editor, Mines Magazine
Becoming a successful engineer often doesn't come without a lot of encouragement and support, whether that's from family and friends, colleagues, professional groups and societies, or a combination of sources. For Josh Dickerson '12, a senior project engineer at civil and structural consulting engineering firm Martin/Martin, that external support was instrumental in helping him find a path into engineering and ultimately thrive in his career.
Dickerson was first introduced to engineering through outreach programs and summer camps a teacher enrolled him in as a child—including one at Mines. He not only learned basic engineering concepts but was introduced to real-life engineers who volunteered their time to teach kids about the profession. He got to see the impact of engineers' work and the stability of their careers, and he was inspired and encouraged to pursue that for himself.
Since earning his environmental engineering degree from Mines, Dickerson has been involved in several high-profile projects in Denver, including being a project engineer on the City Park Golf Course's redesign and working on the hydrologic modeling for the 16th Street Mall redesign in downtown Denver. In recognition for his technical work and community leadership, he was named the 2022 Young Professional of the Year by the American Council of Engineering Companies of Colorado.
We recently sat down with Dickerson to gain some of his insights into how to be an effective leader, building inclusive communities in the workplace and the importance of supporting the next generation of engineers. Here are some of our takeaways.
Communication is key to leading projects—especially those that involve many different stakeholders.
For Dickerson, being a good leader means being able to clearly communicate ideas and needs, something he's experienced when working on complex projects with many different moving parts.
"Engineering projects are completed by people from many different backgrounds with different goals and ways of thinking. Between clients, contractors, engineers and architects, it's easy to miscommunicate, which often leads to mistakes and broken trust," he said. "I've found the best approach is to try and be patient, overcommunicate and believe the best in others. This means if there is something wrong, try and talk to the people who are responsible and figure out why it happened and how to solve the problem rather than jumping to conclusions or blaming."
Leadership extends beyond technical experience and managing people. Good leaders also build inclusive and diverse communities in the workplace and make people feel valued.
While effective communication is important when collaborating on projects and working with different groups, it's also important to carry that through to employees and create a sense of community within a company—and that includes recruiting new employees from diverse backgrounds to retaining them after being hired.
"When I was a student at Mines, there were not many consulting companies marketing directly to students from underrepresented backgrounds," Dickerson said. "Over the last few years, we have made significant progress at our company. There are a lot of really great, talented students who haven't thought about working in consulting engineering. Our industry is missing out unless we are able to welcome these students into our profession."
But other than hiring top talent, investing in talent from a broader applicant pool also signals to your existing employees that their experiences and backgrounds are valued.
"If you're the only one of something—if you're the only woman or you're the only African American—you feel a lot more pressure, and it's harder to feel comfortable enough to be yourself and give your best," Dickerson said.
Dickerson is one of the founding members and former chair of the Justice, Equity, Diversity and Inclusion (JEDI) Committee at Martin/Martin. The committee hosts numerous diversity recruiting events, mentors high school interns from underrepresented backgrounds and has even sponsored a refugee family from Afghanistan.
In this way, companies like Martin/Martin are building a sense of connection. "We're a part of the community, and if we make it better, it will be better for us," Dickerson said.
Dickerson remembers how essential mentorship was for him, and he's determined to pay that forward and encourage others to pursue engineering or become the best versions of themselves.
Since he first started out in his career, Dickerson has made a point to give back and volunteer with organizations that help young people gain the skills and opportunities to succeed later in life—similar to how he was supported through mentorship growing up when engineering didn't seem like an attainable path. He has been involved in mentoring programs, tutored students and volunteered on councils to make spaces like churches be more welcoming and inclusive for people from all backgrounds.
"So many people invested in me, and I know that I couldn't have gotten here without them," Dickerson said. "That's kind of my mission outside of just doing good work—to invest in the next generation."
---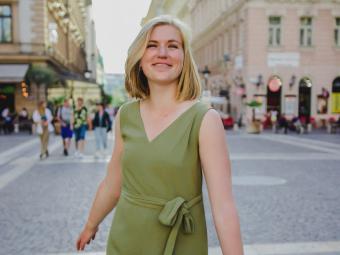 Civil engineering alum pursues passion for built environment and its impact
By Ashley Piccone, Special to Mines Magazine
Like countless people in 2020, Peyton Gibson '17 felt locked away and stifled by the COVID-19 pandemic. But unlike many others, she harnessed those emotions and poured them into a lengthy and arduous application: a scholarship for the Fulbright Program, the U.S. government's flagship international educational exchange program.
Gibson's interest in the prestigious program came when her Mines background and passions collided. As a Mines student, she studied civil engineering and led a chapter of the American Society of Civil Engineers. Afterwards, Gibson worked at the National Academies of Sciences, where she contributed to a broad range of built-environment policy projects.
"I was pretty familiar with the technical side of things because of my time at Mines," she said. "But I was also working with a lot of economists, which got me interested in studying how both economics and engineering can be used to build a better world."
In April 2021, Gibson was awarded the Fulbright scholarship to study at Vrije Universiteit Amsterdam in the Netherlands. She handpicked the institution because of its spatial economics program, which uses data analytics and econometrics to understand how where people live and work affects the quality of their lives.
"I really wanted to explore how the things we build and design impact the people they are actually made for," said Gibson. "I originally wanted to study civil engineering because I wanted to give everyone a chance to thrive in a livable community. I think the U.S. has a long way to go, in terms of building communities that create good health, socioeconomic and environmental outcomes."
Gibson moved to the Netherlands in August 2021, meeting students from across the world and learning to consider viewpoints stemming from different cultural experiences. The Netherland's stellar infrastructure, with the ability to bike or take a train almost anywhere in the country, proved ideal for Gibson's research and taught her how to evaluate what is working and what can be improved.
"The way the Dutch are collecting data—the government organizations they have put together to analyze the data of the policies that they are implementing—those are things I think the U.S. should strive to do," she said.
Gibson defended her master's thesis in August 2022, but for now, she remains in Amsterdam working as a consultant for Autodesk, a company focused on design and make technology. As one of their newest employees, Gibson is working on creating a social impact service that will allow customers to measure the ways their infrastructure they build and design affects the communities around them.
But if she's learned anything during her time abroad, it's to keep plans fluid and open to new possibilities—both in terms of the built environment and in her personal life.
"If I look at my journal entries from five years ago, I remember making a two-year plan, five-year plan, 10-year plan," she said. "Those are great to have, but I don't think I could cross anything out. I've learned to keep my mind open and be willing to go for new opportunities."
---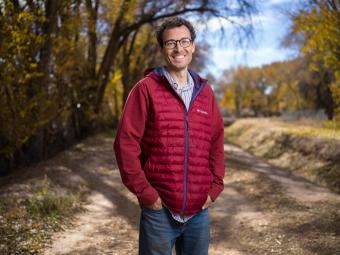 From master's degree in international political economy to working to make higher education attainable for all
By Lori Ferguson, Special to Mines Newsroom
Since graduating from Mines, Kurtis Griess '08, MS '10 has carved out an impressive career in educational enterprises: six years as the founder and director of Compassion by the Book, a nonprofit he launched to cultivate a philanthropic mindset in college students; two years as a mathematics teacher with Denver Public Schools; six years as director of two federally funded Upward Bound Math and Science programs in Albuquerque, New Mexico; and now director of TRIO Student Support Services at State Fair Community College in Sedalia, Missouri. It's somewhat surprising, therefore, to learn he never envisioned a career in education.
"I had done private tutoring from high school all the way through college, and I loved it. I thought I might pursue education in retirement, but never imagined I would start my career in the field," he said. "I envisioned employing the problem solving and critical thinking skills I gained as a math major to a field of my choice."
But during his master's program, Griess had a change of heart. "I felt pulled to service in nonprofits and education, so I went with it," he said.
Griess never looked back. Indeed, over the years, his enthusiasm has only grown. As director of Compassion by the Book, Griess learned that you don't have to have millions of dollars to make an impact. And through his work with Upward Bound, he discovered the profound rewards of assisting underrepresented, low-income and first-generation high school students to complete their secondary education and then earn a college degree. "I loved seeing these students and helping them realize what they could become," he said.
Through Upward Bound, students in need gain access to tutoring, one-on-one mentoring, college visits and cultural activities to increase their proficiency in math, laboratory science, composition, literature and foreign language, Griess explained. Given Mines' outstanding reputation in science, technology, engineering and math, bringing a program to the university seemed to him like a natural next step.
"After writing my first successful Upward Bound Math and Science grant, I was convinced that Mines should have this program," Griess said. "I knew both the students and the university would benefit. Students can discover that careers in STEM fields are attainable, and Mines faculty can encourage greater diversity in higher education through interactions with students from diverse racial and socioeconomic backgrounds."
Griess recently helped Mines write a winning grant to create a program between the university and Jeffco Public School's Alameda International Junior/Senior High School. It launches in spring 2023 and will enable two Mines employees to work on-site at Alameda with 60 students.
"Everyone benefits," Griess said. "Mines faculty and staff will empower students who are underrepresented in higher education and in STEM, and students will serve as mentors and advocates for the next generation."
Now, in his new role as director of TRIO Student Support Services for a community college, Griess finds himself at the next level of the academic pipeline, providing leadership and oversight of services and activities for low-income and first-generation college students and students with disabilities to help them successfully complete their programs and transfer to four-year colleges and universities.
"I'm not sure what the future holds. Working with students feeds my soul, but consulting and grant writing allow me to broaden my reach. I want to continue finding ways to serve," he said. "Mines gave me the ability to look at problems and find solutions, and that's the lens I apply to all issues. I'm not satisfied with anything less than my best."
---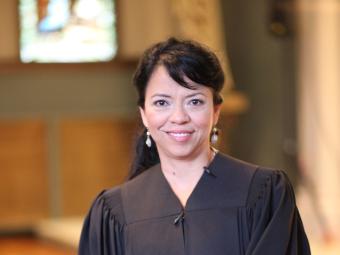 Colorado Court of Appeals judge — and Mines alum — focused on finding the optimal solutions
By And Schuster, Special to Mines Magazine
As one of the 22 judges sitting on the Colorado Court of Appeals, Terry Fox '89 spends her days mentoring young lawyers and those aspiring to be judges, advocating for greater gender and racial diversity in Colorado's judicial system and, of course, hearing cases. Fox, who is 28 years into a varied and exceptional law career, said the rigor she experienced at Mines helped prepare her for the hard work and discipline it takes to succeed on the bench.
Fox started out as an environmental engineer at Vista Chemical Company in 1989, where she worked with an in-house lawyer regarding the federal, state and local laws that governed her work, sparking her interest in law. Fox, who has a natural curiosity and love for learning, would take the regulations home, read them and come back to work asking more questions. "Engineering is about a spectrum of options. It's about asking, 'What is the optimal solution for this particular set of problems?'" Fox said. "Law is a lot of the same."
Fox completed law school by night while working as an environmental engineer by day, then went on to work for the Texas Supreme Court. After practicing law at a large firm with a natural resources group and both state and federal attorney's offices, she was nominated to a judicial position on the Colorado Court of Appeals in 2010. Throughout her career, Fox has worked to help increase diversity on the bench. "Years before I ever considered becoming a judge, I was always very interested in helping women and minorities who wanted to be judges," Fox said.
As part of her service with the Colorado Women's Bar Association, she chaired the Judicial Committee, which supports women applying for judicial positions in the state. Fox also served on the Colorado Hispanic Bar Association's Nominations and Endorsements Committee "to advocate for qualified Hispanics who want to become judges," she said.
Fox also served on Colorado's First Judicial District Judicial Nominating Commission for six years, recommending trial judges for Jefferson and Gilpin counties to the governor. A longtime resident of Jefferson County, she said, "It's important for the bench to represent the community I live in."
These days, Fox's advocacy focuses more on mentorship. "I always have time for coffee. I always have time to look at somebody's judicial application," she said. "While serving as a commissioner, I saw a lot of applications. I've seen what works and what doesn't, and that's something that I'm happy to share."
When asked about what the future holds, Fox talked about how much she loves the work she's currently doing. "I deeply care about applying the law fairly and equally," she said. "[As state judges], our decisions affect Coloradoans every day and every part of the state. What I do, I plan to continue doing as long as Coloradoans allow me to do it."