Four Colorado School of Mines students are seeking to create lasting change on campus as the newest University Innovation Fellows under the mentorship of Mines alumnus Corey Brugh'16, who was the first to take part in the national program.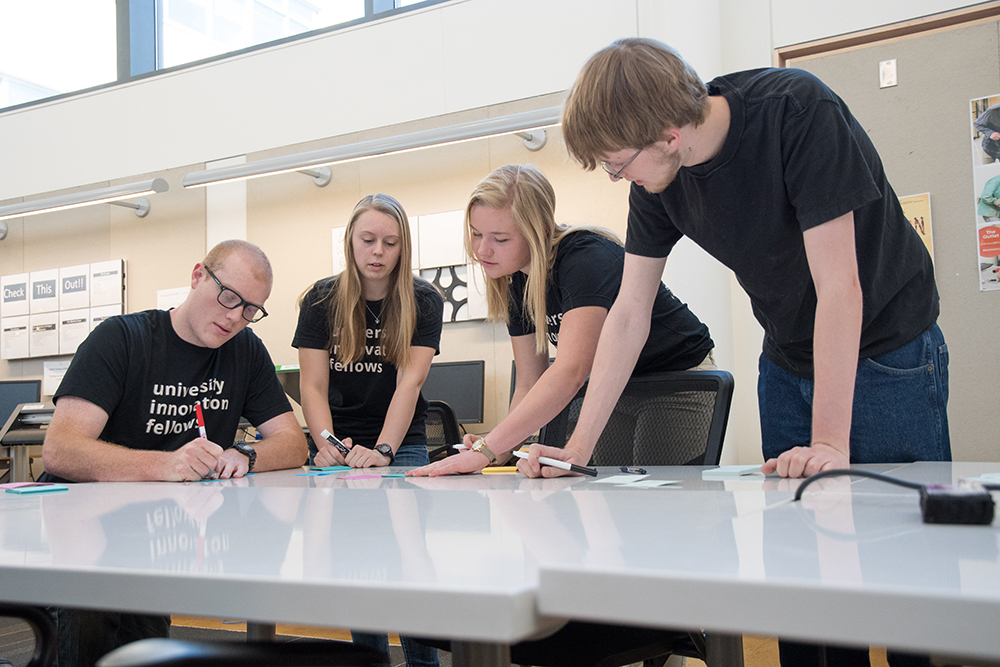 Emma May, computer science; Tanner McAdoo, metallurgical and materials engineering; Sarah Ingram, chemical and biochemical engineering; and Sam Warfield, electrical engineering, underwent six weeks of training earlier this year on design thinking, the lean methodology and how to map their entrepreneurial campus ecosystem.
"The training was intense," said Warfield. "It was like having another four-credit course on top of the normal workload."
Brugh, who was named a University Innovation Fellow in 2014, provided the team with mentoring, encouragement and connections. "This program has changed my life, and it is my responsibility to give back," he said. Brugh earned a bachelor's degree in chemical engineering and is now a research and development engineer with Procter & Gamble.
"He helped us get our foot in the door, so to speak, and secure the audience we needed to make our ideas heard," McAdoo said. "He was an excellent mentor during training and continues to help as we pursue our own ideas as fellows here at Mines."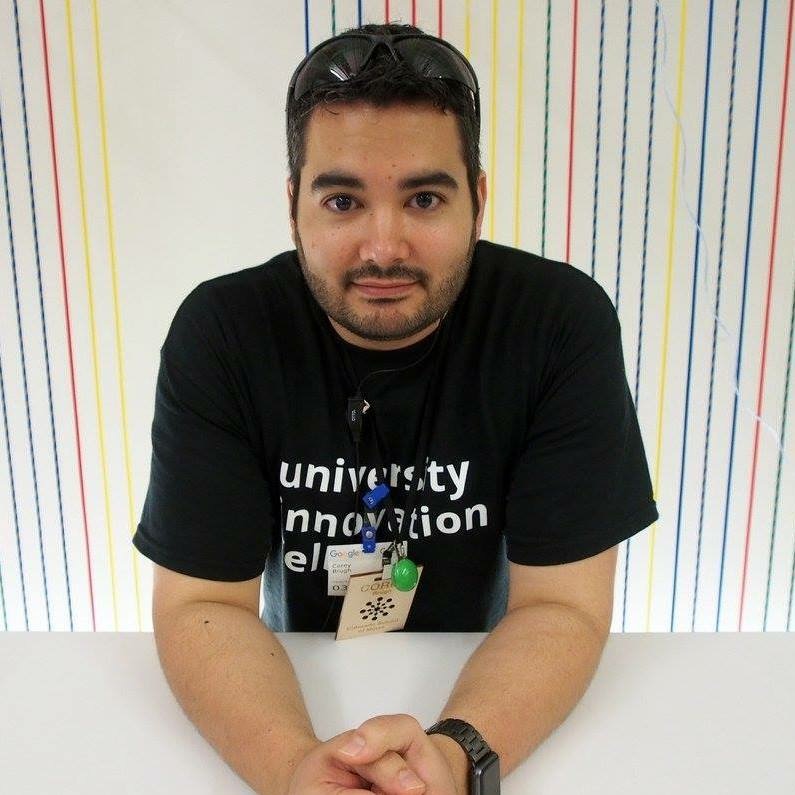 Initiatives Brugh helped start at Mines include a relaunch of the Entrepreneurship Club, creating a learning community around the theme of Engineering Grand Challenges, establishing maker spaces, TEDxCSM, organizing the first innovation competition at Mines and identifying his successors as University Innovation Fellows.
In addition to reaching out to the latest cohort of fellows during their training, Brugh also met with the four students during the program's Silicon Valley Meetup, held March 9-13 at Stanford University's d.school, which brought together 350 students and faculty members from 80 colleges and universities around the world. He shared his experience as a fellow with the entire group.
The meetup was incredibly inspiring for May. "This is when the whole program clicked for me," she said. "It was here that I really understood that I can make a change on campus, and I do not need to settle for the way things usually are."
May hopes to cultivate a culture of entrepreneurship at Mines through workshops and "hackathons." "I believe many students are hungry to be more than just an engineer, but they don't know how to do that," May said. "I want to provide them the opportunity to explore what that can look like for them and empower them to think differently, to realize they don't need to follow the typical career path that we are trained to expect from a young age."
Beyond Mines, May has ideas for reshaping how we view education. "I believe we can rethink how we teach students in order to better engage them and make education exciting from a young age," she said. "I also believe we need to be incorporating innovative technology into the classroom, because as our tech advances, we cannot remain stagnant in our teaching practices."
Ingram said she is excited to pursue a plan to implement a creative space on campus "for students to exercise the right side of their brain, while also having the chance to relax and de-stress." She also hopes to work with the different cultures on campus to create more of a community feel.
One of the biggest things Ingram learned in training is that ideas take time. "A great idea may come out of the blue, but it takes work to develop it and figure out the goals that are associated with it," she said. "This is when I realized having a strong team to work with and bounce ideas off of is key."
McAdoo said the training taught him to value networking. "Students tend to underestimate how powerful making connections with people can be," he said. "As a fellow, I got to meet all sorts of people, including deans and professors at Mines as well as students from around the world who I never would have come in contact with otherwise."
Warfield said he wants to focus on psychological safety, paying particular attention to automatic negative thoughts. "This is where the first thought when attempting a task is just negative, like 'I can't do that' or 'I'm not cool like them,'" he said. "Part of the problem is that society does not like discussing these issues or their solutions. I hope to combat this at Mines, as it can greatly impact lives."
Brugh said Mines has gotten a lot of value from previous University Innovation Fellows, and he expects the same from this latest group. "You'd have to hire many full-time people to do the same work that fellows do without pay," he said. "Fellows are more motivated to see their ideas come to life before they graduate."
May said Brugh has pushed her to think bigger. "He has very high expectations for us, and these expectations push me to work harder and dream bigger for Mines," she said.
Contact:
Mark Ramirez, Managing Editor, Communications and Marketing | 303-273-3088 | 
ramirez@mines.edu
Ashley Spurgeon, Assistant Editor, 
Mines
Magazine
| 303-273-3959 | 
aspurgeon@mines.edu