Undergraduates showcase work at spring research symposium
Students from across campus presented research projects at two-day event April 18-19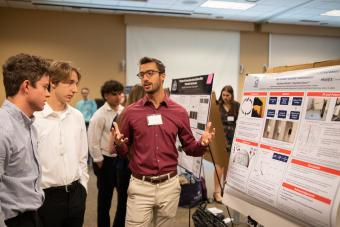 Colorado School of Mines students from across departments and majors shared the projects they've been working on at the annual Spring Undergraduate Research Symposium, a two-day event that showcases some of the best work being done at Mines.
"Undergraduate Research Symposium is an event that celebrates and showcases the contribution made by our undergraduate students to advance research," said Lakshmi Krishna, director of the Undergraduate Research Scholars Program. "Presenting their findings to a diverse audience at the symposium offers opportunities for students to distill complex ideas and generate valuable discussion, and hopefully generate more ideas on how to further their research. Events such as this embody Mines' mission in preparing our students to tackle the most pressing scientific and societal challenges of our time."
Since the inaugural symposium in 2018, which featured 80 poster presentations, the spring symposium has grown into a two-day event, with more than 130 oral and poster presentations on student research. The event is made possible by the sponsorship of Dr. Joe W. Gray '68, professor emeritus at the Oregon Health and Science University and University of California, San Francisco, and current member of the Mines Board of Governors. Undergraduate Research Scholars, a part of the University Honors and Scholars Programs, hosted the symposium.
Here's what some of the students at the symposium had to say about their projects and the opportunities for doing research while at Mines:
Maddy Hoffman
Sophomore
Major: Physics
Project: Optimization of Space Nuclear Reactor Shielding through Computational Analysis
Hoffman's project aimed to solve the issue of creating a safety shield that is both strong enough and light enough to protect people from the ionizing radiation emitted from nuclear reactors in space. With help from her mentor Jeff King, professor of metallurgical and materials engineering, Hoffman created a Python 3.10 script that uses OpenMC to test arbitrary compositions of different materials in various layers and geometries to optimize the ideal shield.
Hoffman said she is interested in the future possibilities of nuclear power and hopes to delve deeper into the topic as she continues her studies at Mines.
"I think nuclear could be our best bet for future electricity needs," she said. "I came to Mines knowing I wanted to study that, but not really knowing a lot about it. Professor King helped answer all of my questions and helped me find the support I needed to do this project."
Aidan Cooper
Junior
Major: Biochemistry
Project: Quantification of Metabolic Differences in Platelets Exposed to Estrogen
When women use hormonal therapies, for birth control or menopause, for example, they are at a higher risk for thromboembolism, or blood clots. This is because of how estrogen affects metabolic differences in platelets.
For Cooper, it was a topic he knew little about -- until he heard about a research opportunity through Associate Professor Nanette Boyle looking to better understand how platelets are impacted by an exposure to estrogen, and decided it would be a good opportunity to expand his scope of research and learn something new. After all, Cooper is a transfer student who wanted to come to Mines because of the research opportunities the university offers.
"I had no idea before I started working on this that it was a topic I'd be interested in," he said. Although he intends to do future research on algae and plants, the opportunity to expand his horizons was valuable. "The experience will definitely help me going forward when I work on other research."
Andy Vanyo
Senior
Major: Mechanical Engineering
Project: Residential Decarbonization of Homes in Golden, Colorado
As a junior, Vanyo learned that Paulo Tabares Velasco, associate professor of mechanical engineering, was involved in several research projects related to energy efficiency and collaborations with the U.S. Department of Energy National Renewable Energy Laboratory. Hoping to possibly work in the renewable energy sector after graduation, Vanyo reached out to Tabares Velasco to find out if there were any research opportunities he could get involved in.
Tabares Velasco connected him with a project started by some graduate students that needed help and Vanyo jumped in, working on the project over the last year and a half. He's now working on a paper that he hopes to get published and feels confident about his future after Mines.
"I started out thinking maybe I wanted to do aerospace, but just by following my interest in renewable energy, I've learned about the field a lot more and that might be the path I want to focus on," Vanyo said.
Originally from Minnesota, Vanyo decided on Mines because of its reputation and how connected faculty are with students. "Mines is one of the best undergraduate schools for research," he said. "It's great that you can just email a professor and they'll respond. They really welcome you with open arms and help people connect to what they're into."
Brooke Bowcutt
Junior
Major: Computer Science
And
Luke Bowar
Senior
Major: Computer Science
Project: Android App Privacy Policy Collection at a Large Scale
With a shared interest in cybersecurity, Bowcutt and Bowar wanted to learn more about how private user information really is on a device that almost everyone has – a cell phone. Companies that create apps are supposed to follow the General Data Protection Regulation (GDPR), a European Union law that protects user privacy, but do they in reality?
For their project, Bowcutt and Bowar looked at how Android phone apps collect data and if it's being done in accordance with the law. Advised by Associate Professor Chuan Yue, associate professor of computer science, the team was able to troubleshoot issues and streamline time-consuming tasks.
For Bowar, the project gave him an experience he hadn't had before. "I know more about this topic and being at Mines, I had access to papers that we needed as well as the Mines network of people to help out," he said.
Bowcutt, who is interested in learning more about the ethics of computer science, being part of a bigger community was valuable. "The support system we have here is so great," she said. "Having our peers doing other projects and just having that common experience, it made it easier to discuss what issues we ran into and how to best complete this research."
Lindsey Shupe
Freshman
Major: Civil and Environmental Engineering
Project: Concrete Sustainability
Being a first-year student at Mines wasn't a barrier when Shupe decided she wanted to take on a research project. As a member of the First-Year Innovation and Research Scholar Training (FIRST) program, she knew before coming to Mines that research was going to be a priority. What she didn't know was that she'd also choose a sorority based on that same interest.
"So many members of Pi Beta Phi are also doing undergraduate research," she said, and in civil engineering, her field of interest. "That's why I chose it."
For her project, Shupe worked with Lori Tunstall, assistant professor of civil and environmental engineering, on the creation of more sustainable materials for construction. Concrete results in more carbon emissions than a substance like biochar, but biochar can be more expensive to use. A solution could be flyash, which is created as a byproduct of coal production and can bring down the cost of biochar in construction projects.
Though she still has a few more years to go at Mines, Shupe said she knows she's going to continue learning about sustainable infrastructure and that she'll have the support at the university to pursue her goals.
"When I was in high school and deciding on colleges, I visited Mines and the professors I met with were so nice and supportive, it made me feel included. It's why I decided to come here," she said. "That's been my experience as a student as well."