Undergraduate students tackle a big pollution problem: gas-powered leaf blowers
Mines students in an integrated design studio class try to find creative solutions for a very specific problem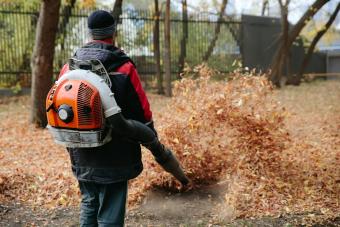 Did you know that using a gas-powered leaf blower for one hour is the equivalent in greenhouse gas emissions as driving a pickup truck from Denver to Los Angeles? This eye-opening comparison is part of the reason students in a Colorado School of Mines design class are trying to figure out how to solve a seemingly small problem with a big impact on the environment.
Mark Orrs, teaching associate professor in Engineering, Design & Society, presented this challenge to his students this semester in Design for a Globalized World, an integrated design studio required for those pursuing a Bachelor of Science in Engineering (BSE). There are several integrated design studio classes BSE students are required to take, but this one focuses on how students can learn to solve design problems that have bigger, sometimes worldwide, implications.
"We're teaching students to become problem solvers by using design thinking to solve challenges," Orrs said. "And they learn best by doing."
This challenge is timely as well, as various state legislatures – including in Colorado – consider bills regulating the sale of gas-powered lawn equipment. California's ban will go into effect in 2024, while Illinois and New York are also considering bans.
The class split into four groups to tackle the leaf blower problem from different angles:
How do we make less leaves fall on the ground, lessening the need for leaf blowers?
How can we make leaves break down into smaller parts, so we don't need leaf blowers at all?
How can we lessen the amount of gas emitted by leaf blowers?
How can we make an electric leaf blower that's viable for use by commercial landscapers?
Richard Jung, a sophomore in the BSE program with a focus on corporate sustainability, was on the team that considered how to improve existing leaf blowers and lessen their harmful emissions.
The problem turned out to be much more complex than it initially seemed, he said.
"From the outside, they seem like simple issues. We just tweak things here and there. But it's more complicated than that," Jung said. "We could hardly get to the prototyping stage because we were just trying to grasp the scope of the problem. There are a lot of layers to this, so I think we were humbled by how much work there is to be done."
Jung and his teammates started off by considering just residential users of leaf blowers, but soon realized there was a bigger impact coming from commercial landscapers.  They talked to different companies to find out what was hindering them from using electric-powered leaf blowers, which exist on the market but aren't being employed on a large scale by landscaping businesses.
Many businesses cited cost and logistics as being the factors holding them back from switching to electric leaf blowers, Jung said. Having those conversations helped Jung and his team better understand the issue from the point of view of the actual users, who aren't necessarily against using more efficient tools, but are above all focused on trying to run a profitable company.
"When we started, I had all these ideas that I thought I could do," Jung said. "I tried to find data that validated what I thought, instead of being open. That's not a great way to address a problem."
The approach that will work best is still being considered. But when it comes to rethinking the leaf blower, or approaching more global issues, Mines BSE students are working on tackling timely, pressing challenges.
"This is a specific but impactful problem that doesn't currently have wide-spanning legislation regulating it," Orrs said. "If our students can find good solutions, the real-world implications are huge."
"The program as a whole is meant to form students who are capable of integrating several different engineering skill sets," he said. "They will know how to go out into the world and problem solve."