Two undergraduate Mines students win Astronaut scholarships
Joseph Tanner, a former NASA astronaut, presented the awards at an event on Oct. 27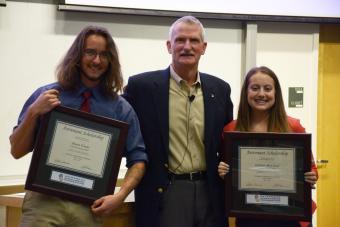 Two Colorado School of Mines students have been named Astronaut Scholars for the 2021-2022 academic year.
Gabriela Blanchard, a chemical engineering major, and Mason Weems, a metallurgical and materials engineering major, will each receive a scholarship from the Astronaut Scholarship Foundation (ASF), as well as mentorship and professional development opportunities throughout the year.
Astronaut Scholarships are awarded to students in their junior or senior year of college studying science, technology, engineering or mathematics with the intent to pursue research or advance their field upon completion of their final degree. Created by the Mercury 7 astronauts in 1984, ASF is one of the largest merit-based monetary scholarship awards to undergraduate STEM students. ASF has a lifelong relationship with each Astronaut Scholar, providing them with mentors, professional and personal development and networking with astronauts, C-suite level executives and industry leaders to help advance their careers.
Blanchard and Weems join a class of 60 scholars from 44 different universities in the 2021 class of Astronaut Scholars. They were honored on the Mines campus on Oct. 27, at an event where NASA astronaut Joseph Tanner spoke on behalf of ASF and presented them with framed awards.
Weems said he is grateful for receiving this honor and for the support of ASF.
"The ASF is founded on the premise of opportunity," said Weems, currently a junior at Mines. "You still have to put in the work and get the job done, but ASF provides so many different avenues to pursue."