In their last semester, Colorado School of Mines students launch clothing line to empower and inspire women in engineering
A&C Designs' first pieces are emblazoned with the word "Engineer" with the female gender symbol replacing "i"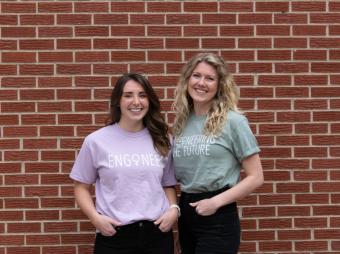 It's not as if Amanda Field and Claire Knight had a lot of time on their hands.
The two students are completing their master's degrees this semester at Colorado School of Mines in the Engineering & Technology Management Program. While they're at it, each is working (Field is interning with Ball Aerospace), coaching (Knight is the assistant coach of the Mines Dance Team) and preparing to start their careers.
But that doesn't mean they couldn't make time for a passion project. And that is just what A&C Designs Company is. 
The company, which released its first product line on March 1, was founded with the goal of empowering and inspiring women to enter — and be proud to be in — STEM fields. Their first apparel release features soft t-shirts, sweatshirts and beanies emblazoned with the word "Engineer" with the female gender symbol replacing the "i."  
"Claire and I are both women engineers ourselves, so we've both experienced the challenges and obstacles that women face entering and staying in STEM," says Field, of Windsor, Colorado. "We want our clothing to empower women to feel proud to be in STEM and have the desire to show that to the world. By creating comfortable and cute clothing that showcases women as engineers, we hope to change the stigma around what an engineer is 'supposed' to look like." 
After graduation in May, Field will join the Future Technical Leader program at Northrop Grumman. Knight, from Santa Rosa, California, will join Lawrence Livermore National Laboratory as a Mechanical Engineer II. The two have big plans for themselves. Among them: Keeping A&C Designs going.
"I can't wait to continue pouring myself into that mission, grow the business and empower women all across the country!" Field says. 
Visit the A&C Designs website to see and shop their launch products line. Follow A&C Designs on Instagram to be the first to see future releases.