Teams that created assistive devices for 12-year-old share top prize at Spring 2023 Capstone Design Showcase
The students were part of the Human-Centered Design Studio, where teams create adaptive equipment for people with disabilities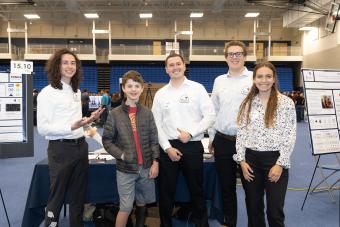 Two teams that created adaptive equipment for a 12-year-old boy took the top prize at the Spring 2023 Capstone Design Showcase at Colorado School of Mines.
The teams created two different devices for Oliver, a 12-year-old who has a condition known as Big Brain Syndrome. Because of the condition, Oliver experiences muscle weakness and decreased control of the left side of his body.
The E-Stim for Oliver is a functional electrical stimulation device that both aids his ability to walk independently and strengthens his muscles to hopefully eliminate the need for the device in the future. Shoes for Oliver aids in his ability to put on shoes without needing assistance from others.
"I am so proud of what our team achieved, but it was never about winning the competition for us," said Audrey Richard, a member of the Shoes for Oliver team. "As soon as we watched Oliver put on his shoes independently and start running around, we had already won."
Fellow members of the Shoes for Oliver team were Michael Freisinger, Rick Nott, Megan Toothaker, Thomas Laing and Gabbi Varela. The E-Stim for Oliver team included Josie Gouger, Joshua Gumber, Keegan Meyer, Brooke Patterson, Jose Ramirez and Austin Spaulding.
Tied for second place were three teams: Adaptive Eating System, Mines Cycling Mountain Bike Suspension Data Acquisition and Solid Particulate Modification by Hydrodynamic Cavitation.
Adaptive Eating System is a customized utensil system for a 15-year-old girl with cerebral palsy who has difficulty eating with standard eating utensils. Team members were Kristin Beener, Megan Toothaker and Brooklyn Vargas.
Mines Cycling Bike Suspension Data Acquisition created specialized open-source hardware and software that allows mountain bike riders to optimize their bike's suspension in a way that is adaptable to different frames and less expensive than traditional methods. Team members were Camden Gillis, John Higginbotham, Brian Kalcic, Blake Ollweiler and John Weiler. 
Solid Particulate Modification by Hydrodynamic Cavitation developed a method to clean recyclable plastics in a way that doesn't use harmful chemicals, limits the amount of microplastics generated and is energy efficient. Team members were Carolina Cisneros, David Hoppmann-Piñeiro, Thomas MacDougall, Conner Shaver, Meghan Slowey and Jacob Whitney. The project was sponsored by Reeves and Associates.
Third place went to Voice-Controlled Wireless Shifting for Handcycles. Team members were Alexander Nesbitt, Keegan Pelton, Abigail Thompson, Joey Thurman, Francesca Churchill, Drew Hartman, Sebastian Zimkas and Kevin Eaton.
Three teams tied for fourth: Shell Eco-Marathon, Vegetable Irrigation and Water Conservation and Fight Against Fire.
Capstone project were also recognized for their innovation, societal impact and proof of concept:
Best Innovation: CBR Protection for Campus Buildings
Best Societal Impact: Fencing for a Deaf Competitor
Best Environmental Impact: Sustainable Alternatives for Fiber Optic Cable Disposal
Best Human Systems: Multifunctional Human Powered Generator
Best Proof-of-Concept: Aquatic Organism Passageway
The Spring 2023 Broader Impact Essay winners were:
First place: Sam Jannke for "The Environmental and Economic Impacts of Unsustainable Farming"
Second place: Montane Whiteley for "The Destruction or Revolution of American Education"
Third place (tie): Samuel Dunlap for "An Unending Battle" and Kaitlyn Thompson for "Too Close to the Sun"