Team that restored nearly 100-year-old farm machine wins top prize at Fall 2022 Capstone Design Showcase
Mines students restored the 1927 Caterpillar Crawler Tractor on behalf of Lakewood Heritage Belmar Park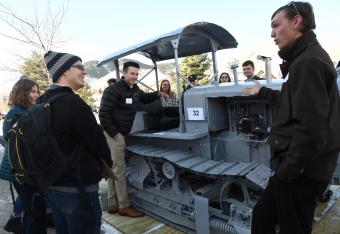 A team that restored a 1927 Caterpillar Crawler Tractor to working condition has taken top honors at the Fall 2022 Capstone Design Showcase at Colorado School of Mines.
The Mines students were charged with restoring the Caterpillar Model 20 Tractor by Heritage Lakewood Belmar Park, a 20th Century history park and museum in Lakewood, Colorado. The tractor, which the students completely reassembled and restored to its original appearance and operational condition, will be on public display at the park.
"I really enjoyed that this project helped me connect with local history in Colorado," team member Chloe Montgomery said. "Being able to get a tractor working that is almost 100 years old has also given me a new perspective on what good design means. This win gives me hope that other teams will be able to do similar historical design projects in the future, and I think that's great!"
"It doesn't get much better than being able to give back to the Lakewood community by restoring an awesome piece of history, all the while building relationships with teammates and obtaining valuable engineering skills along the way," fellow team member Connor Edson added.
Rounding out the winning team was Sean Ankarlo, Brett Coleman, Evelyn Cook, Ethan Dyer, Caylee Dolan, Nick Koeser, Mason O'Neill, Ashley Renzelman, Trent Whittaker and Corin Zapico. Tony Vandenberge served as project adviser.
Second place went to Stream Restoration and Wildfire Prevention in Missouri Creek, which worked on a plan to clear overgrown vegetation, address high iron levels in water and soil and mitigate wildfire risk in Missouri Creek, a tributary of North Clear Creek, for the City of Golden. The team made site visits, tested water and soil quality and engaged with the local community to address their concerns. Team members were James Felmlee, Luke Kimsey-Biglen, Nicole Newell, Erin Taggart and Amanda Zeutzius. Yosef Allam served as project adviser.
Tied for third place were two teams: Canal Seepage Elimination and Centennial Valley SWA/Box Elder Creek Restoration.
Canal Seepage Elimination created a long-term, environmentally friendly solution for eliminating seepage from Ward Canal, a waterway in Lakewood. Team members were Ailish Gurney, Titus Hoffman, Thurman Knowles, Rachel Miller and Brandon Onofre. Kristoph Kinzli served as project adviser.
Centennial Valley SWA/Box Elder Creek Restoration worked on a constructable design plan to restore Box Elder Creek ecologically and hydrologically for Colorado Parks and Wildlife. Team members were Abby Cowan, Linus Davidson, Savannah Dilley, Aidan Lewis and Westley Rayburn. Vandenberge served as project adviser.
Capstone projects were also recognized for their innovation, societal impact and proof of concept:
Best Innovation: Non-Tractor Tools to Control Geothermal EGS Horizontal Wells
Best Societal Impact: Tabor Lake Trail; Clear Creek Trail Extension
Best Human Systems: Rollerblade for Transtibial Amputee
Best Proof-of-Concept: South Platte Nature Van Express
The Fall 2022 Broader Impact Essay winners were:
First place: Zachary Scott for "Who Here Hasn't Been to Space"
Second place: Nicholas Probst for "The In-Pasta-Ble Machine"
Third place: Eva Rodriguez for "Automation – Good for Innovation" and Noah Lebsack for "Hydraulic Fracking – How Public Perception Affects Engineering Innovation"