Support the campus causes you dig the most on #idigmines Giving Day on Feb. 6
More than $100,000 in bonus and matching funds available for 29 featured campus groups, causes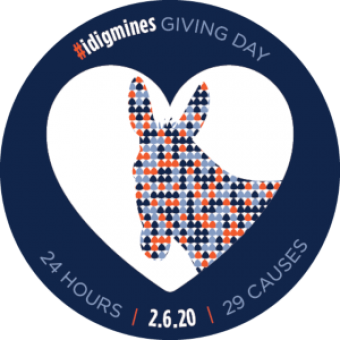 Mark your calendar: #idigmines Giving Day is Feb. 6, 2020!
More than $100,000 in bonus and matching funds will be available for the 29 featured causes, thanks to our lead corporate champion Credit Union of Colorado and several generous Mines donors.
This year marks the fourth 24-hour online giving day that encourages the Mines community to come together and show their love by supporting the campus causes they dig the most.
Students, faculty, staff and alumni are invited to join the fun at three campus celebrations throughout the day where they can make a gift, win bonus prizes and enjoy free food and drinks:
7:30 a.m. – 9:30 a.m.
Arthur Lakes Library Patio
Start your day with free coffee and hot chocolate from Book & Brew.
11 a.m. – 1:30 p.m.
Student Center Atrium
Chow down on Smokey J's BBQ. First 500 people are free.
3:30 p.m. – 5 p.m.
Brown Hall North Atrium
Grab a friend and end the day with froyo.
The $35,000 grand bonus will be divided among the 29 causes based on their percentage of overall donors at the end of the day. There will also be hourly and day-long challenges to encourage Orediggers to support their favorite cause. Some include:
Student 2:1 Match: President and Mrs. Johnson and donors to the Wagner Excellence Fund are doubling all student gifts made throughout the academic year, up to $10,000. On #idigmines Giving Day they will TRIPLE student gifts.
Alumni 1:1 Match: Andrew P. '78 and Sherry P. Swiger will match alumni gifts throughout the day dollar-for-dollar up to a total of $35,000.
At the end of the day, the cause with the most student and alumni donors will each receive an additional $2,500 bonus gift, respectively.
"We're so excited to celebrate our fourth giving day here at Mines. This initiative builds affinity and a culture of philanthropy among the Mines community," said Brian Winkelbauer, president and CEO of the Mines Foundation. "It's an excellent way for each of us to show our OreGiver spirit and support the programs, departments and innovation that make Mines such a special place."
More bonus opportunities and information on #idigmines Giving Day can be found at idig.mines.edu.