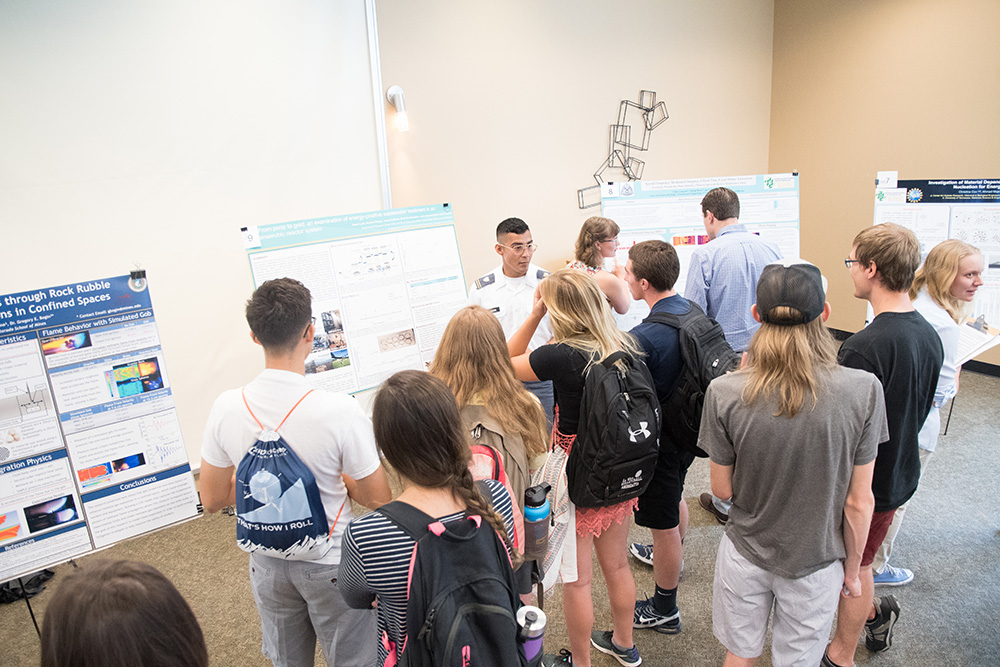 Students from universities across the United States and Ireland participating in Research Experiences for Undergraduates (REU) programs at Colorado School of Mines presented their work at a poster session last week.
Forty-two students presented their research covering topics in renewable energy, water infrastructure, chemistry and chemical engineering at the poster session held on July 27, 2017.  Mines hosts three REU programs through the Renewable Energy Materials Research Science and Engineering Center, the Engineering Research Center for Reinventing the Nation's Urban Water Infrastructure and Advancing Polymer Materials by Integrating Chemistry and Chemical Engineering. These programs support the education and training of undergraduate students in a closely mentored independent research setting.
"Undergraduate research programs exist to help students transform themselves into contributing members of the professional research community," said Physics Teaching Professor Chuck Stone, director of the renewable energy REU summer program.
"I learned that research can be very frustrating," said Mines mechanical engineering student Gretchen Ohlhausen. "But it's very rewarding when you finally get the results you are looking for. This has made me want to get a master's and work in research for the rest of my life."
During the REU programs, some students had the opportunity to work across disciplines.
"I'm studying to be a mechanical engineer but I worked in a chemical engineering research lab," said Mines mechanical engineering student Brockton Sterling. "I found that blending the two together really helped me. This experience shifted my interests quite a bit."
In addition to the laboratory research, students participated in the Joint Networking Program for Front Range REU Students and Summer Interns on June 28. This event brought together undergraduate STEM majors from across campus and nearby internship and research programs to discuss topics including ethics in science and engineering, how to present scholarly research and transitioning academic skills into a career in STEM fields.
"The most important component of our undergraduate research enterprise is the Mines faculty and research staff that selflessly contribute their time, energy and expertise to our students," Stone said. "Initial, thoughtful, one-on-one training sessions with both an REU student and his or her peer mentor eventually leads to independence in the research environment. Along with this, students augment their research experience with a curricular thread that includes field trips to other research centers within the Front Range, a hands-on laboratory program, professional development sessions and weekly technical seminars. Joint networking programs with other nearby REUs and summer internship groups provide a social network that fosters an appreciation of other STEM areas."
"I would definitely recommend this program," Sterling said. "It's very flexible and the amount of information you learn is great."
At the end of the poster session, five students received awards for best poster presentations and best technical achievement:
Best Technical Achievement
Clare Lanaghan, Iowa State University, Faculty Mentor: Jeff Squier, Physics
Best Presentation
Austin Shelton, Morehouse College, Faculty Mentor: Jason Porter, Mechanial Engineering
Mayassa Gregoire, St. Joseph's College, Faculty Mentor: Lakshmi Krishna, Physics
Rileigh Casebolt, Bucknell University, Faculty Mentor: Carolyn Koh, Chemical Engineering
Will Schenken, Colorado School of Mines, Faculty Mentor: Reuben Collins, Physics
CONTACT
Joe DelNero, Digital Media and Communications Manager, Communications and Marketing | 303-273-3326 | jdelnero@mines.edu
Mark Ramirez, Managing Editor, Communications and Marketing | 303-273-3088 | ramirez@mines.edu