Summer bridge program receives INSIGHT Into Diversity Magazine's 2023 Inspiring Programs in STEM Award
Challenge Program prepares incoming students for academic rigor of Mines, while also building strong support network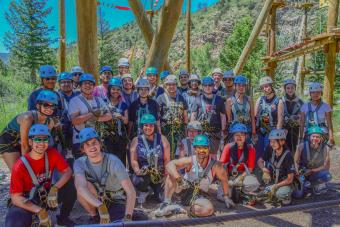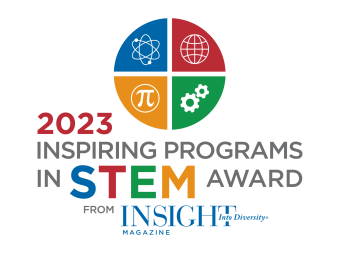 The Challenge Summer Bridge Program at Colorado School of Mines has received the 2023 Inspiring Programs in STEM Award from INSIGHT Into Diversity magazine, the largest and oldest diversity and inclusion publication in higher education.
The Inspiring Programs in STEM Award honors colleges and universities that encourage and assist students from underrepresented groups to enter the fields of science, technology, engineering, and mathematics (STEM). The Challenge program will be featured, along with 79 other recipients, in the September 2023 issue of INSIGHT Into Diversity magazine.
Hosted by Mines' Multicultural Engineering Program (MEP), Challenge is a free four-week summer transitional program for incoming first-year students with diverse identities to prepare for the academic rigors of Mines while also building a strong social network of support. Challenge scholars get a preview of courses at Mines through pre-Calculus I, pre-Chemistry I, and Engineering Design, build academic skills through pre-collegiate workshops, and grow their community through exciting weekly activities.
"The Multicultural Engineering Program at Colorado School of Mines serves those who are underrepresented and first-generation to college, and our Challenge summer bridge program is designed to give students a head start toward a successful college experience. We grow a community of support and strength for students in Challenge so that college is an inclusive adventure among those who share similar lived experiences. We also prepare students to be OK with failure and provide the tools necessary to persist in the face of adversity. Lastly, we normalize breaking out of the traditional dichotomy of having a STEM identity or a diverse identity and rather embrace the coexistence of both so students are empowered to show up authentically in all that they do," said Dra. Stepheny Beauchamp, director of the Multicultural Engineering Program at Mines.
"College can be an isolating experience, particularly for those from minoritized communities, so Challenge looks to break down barriers that might otherwise interrupt student's academic and professional pathways while surrounding them with a core community of support. Overall, Challenge seeks to help students thrive in college, not just survive it."
Inspiring Programs in STEM Award winners were selected by INSIGHT Into Diversity based on efforts to inspire and encourage a new generation of young people to consider careers in STEM through mentoring, teaching, research, and successful programs and initiatives. A call for nominations for this award was announced in April 2023.
"We know that many STEM programs are not always recognized for their success, dedication, and mentorship for underrepresented students," says Lenore Pearlstein, owner and publisher of INSIGHT Into Diversity magazine. "We want to honor the schools and organizations that have created programs that inspire and encourage young people who may currently be in or are interested in a future career in STEM. We are proud to honor these programs as role models to other institutions of higher education and beyond."
For more information about the 2023 Inspiring Programs in STEM Award and INSIGHT Into Diversity magazine, visit insightintodiversity.com.