Softball alumni-led fundraising campaign will improve field, build connections
Installing artificial turf on Mines Softball field is the goal of $140,000 fundraising campaign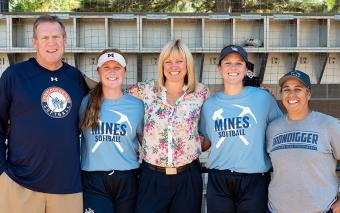 Kerry Siggins '01, Kari Gonzales '02 and Kim Alanis '04 MS '05 say that playing Oredigger softball created a support system that kept them at Mines through tough personal struggles while teaching them skills that led to the executive careers and rich lives they lead today.
Now, the alumni looking to others to join them in a $140,000 fundraising campaign that will install artificial turf on the softball field — improving the team's ability to practice outside, keep home games at home and recruit top talent — and to rebuild connections with today's team.

"Alumni are as important to our program as our current players are," head coach Mike Coutts said. "They're our history. I want our kids to meet and learn about as many alumni as possible. I believe this campaign will create those opportunities."
Read more about the Softball Field Improvement Fund campaign and how Mines influenced their careers on the Campaign for MINES@150 site.