Sarah Zaccarine: "Something I've really appreciated about working with people at NREL is how receptive and helpful they are towards Mines students."
PhD Student, Applied Chemistry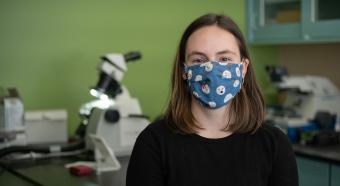 Tell us about your research.
My research focuses on using various instrumental techniques to analyze polymer electrolyte membrane, fuel cells and electrolyzers, which are part of the hydrogen economy, so they produce hydrogen or use hydrogen to produce electricity. And by using my different electron and x-ray microscopy and spectroscopy techniques, I'm able to analyze a different range of scales of materials that go into these devices. So all the way from small scale, looking at the different catalyst materials and all the way up to once it's an actual device.
Why is your work important?
The really large-scale application is called the hydrogen economy. This is actually a big concept by the department of energy. Hydrogen gas can be used as a renewable power to replace a lot of different needs for fossil fuels.
Tell me about your work with NREL.
My interactions with NREL started pretty much day one of grad school. I started on a project with them right away when I first started my PhD. I'm in my fourth year now and that was mostly me going to NREL every two weeks to meet with my collaborators. I started off with catalyst development work. From there, I started working more on catalyst layer work, which is kind of a bigger piece of the overall device. Starting this year, I'm going to be now using all of my work in the fuel cell field, applying that to electrolyzer catalysts, layers and devices. And I will be actually working at an NREL this year.
What's it like to work with NREL?
Being able to interact with NREL so much and now being able to work there, I think that's helped me fully believe that my research matters. It really put my small-scale work into a much bigger context of what our government, on a federal level, is actually interested in funding at one of their huge national labs. One of the things I've really appreciated about working with people at NREL is how receptive they are and how helpful they are towards students. I've been able to make individual relationships with a lot of people there.
Why did you choose Colorado School of Mines?
When I actually came to visit Mines, I really liked the campus. Colorado's obviously beautiful. I think that's something that everyone appreciates about this school. But when I came here, I got to meet actually a lot of people in the department. Generally, the people in the chemistry department seemed pretty happy. The grad students seemed pretty happy and that wasn't something I explicitly noticed at a couple of other schools I was visiting. And I don't think they were just putting on a face. It seemed like being in this beautiful environment and having more of an applied focus on your work, I think it's just a lot more motivating and people actually care about a work-life balance here while still being super productive. And that was something that even just in a couple of days of a visit, that was a pretty strong impression that I got and that definitely drew me here.
And now that you've been here for a while, what do you enjoy about being at Mines?
One thing that I really like about Mines now that I've been here for four years is that we have great facilities, even though we're a pretty small school. And I think the benefit of that is that I don't feel like we're restricted by our size. We still have access to all the instruments that I was most interested in. And because there's a lower population compared to like a huge state school, like some of the other ones I was looking at, I'm able to access those instruments and I'm able to produce work on a faster pace,