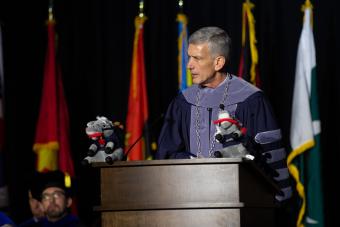 Colorado School of Mines will celebrate its Spring 2020 Commencement with a pair of virtual ceremonies Friday, May 8.
Undergraduate Commencement will begin at 10 a.m. MT, with a live broadcast featuring many of Mines' cherished traditions as well as new features aimed at helping the community feel connected during this challenging time. Graduate Commencement will follow with a live ceremony broadcast at 12 p.m. MT.
Student speakers during the undergraduate ceremony will be:
Lauren Miller, B.S. in Geological Engineering
Molly Wallace, B.S. in Chemical Engineering
Evan Lim, B.S. in Computer Science
Aspen Richards, B.S. in Engineering Physics
Rania Pommer, PhD in geology, will give the student address at the graduate ceremony.
Graduating Orediggers are encouraged to share their clever mortarboard designs and creative ways to cross a graduation stage on social media.
Mortarboard Decoration: Show us your creative mortarboard designs! Engineer something crazy! Don't have a mortarboard? Build one! The more creative the better.
Senior Walk: Demonstrate your most creative walk, dance, hop, skip, across the graduation "stage."  You are making your own stage wherever you are, so get creative! Maybe your feet don't even touch the ground? The possibilities are endless
Post using #MinesGrad and tag Colorado School of Mines on Twitter or Instagram for a chance to win Mines swag. Deadline is 1 p.m. May 8. Don't have social media? E-mail jdelnero@mines.edu.
Mines will also be collecting well-wishes and positive thoughts via a social media board – anyone using #HelluvaEngineer on Twitter or Instagram can participate in the online ceremony.
For more information about Friday's ceremonies, including the link to join in, go to commencement.mines.edu.